Resilio includes greatly improved gentle squeezing performance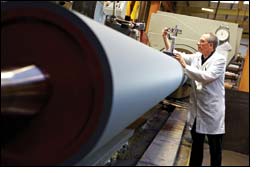 Dramatic improvements in water expression and major cost and energy savings in drying are achieved by a novel roll covering technology for fabric dewatering applications.

Specialist squeeze roll manufacturer Richard Hough Ltd. (RHL) has collaborated with Just Rollers plc, world leader in elastomer roll coverings, to develop the new Resilio system. Trials have identified substantial performance benefits over the existing market-leading elastomer roll cover:
• Typically 40% better expression on knitted goods.
• Typically 18% better expression on wovens.

Cost savings are equally significant, potentially reaching as much as €50,000 per year depending on the applications.

The Resilio roll will be officially launched at the ITM 2009 textile machinery exhibition, to be held in Istanbul, Turkey from June 6-10, when it will be the focus of the RHL presentation on Booth 611 in Hall 6.

RHL has applied for a patent for the new Resilio roll, which combines the company's own expertise in mechanical squeezing and dewatering equipment with specially-developed dual-layer technology for the covering. The secret is in the integration of the squeezing power of the sub-layer with a revolutionary profile-hugging top layer, devised by RHL.

Says RHL's Anthony Ashton: "This greatly increases the surface contact in the nip, thus expressing the liquid from every void and undulation in the fabric, with microscopic efficiency."

Other key features of the new Resilio roll include:• Greatly improved 'gentle' squeezing performance compared to hard rubber rolls.
• Superb bond strength.
• Resistance to the majority of processing chemicals.
• Very hard wearing – excellent abrasion resistance.
• Increased service life compared to standard hard rubber rolls.
• Uniquely-developed compound blends.

RHL, of Bolton, Lancashire, also manufactures the world-famous Roberto roll, as well as extra-tough Resistor roll coverings for use in demanding environments where harsh or aggressive chemicals and resins are used.

New compounds for the latest Resilio and Resilio-Resistor products have been developed and perfected through an intensive testing programme in Europe and the USA and RHL now believes machinery manufacturers need to respond quickly to the increasing need for greater fuel economy and lower emissions, driven by the long-term prospect of high oil prices.

Says Anthony Ashton: "The new Resilio and Resilio-Resistor compounds will challenge textile finishing machinery designers to develop new energy-efficient and 'gentle' fabric-processing machines to suit the rigorous demands of the 21st century – and the machinery manufacturer that chooses the wrong technology options may risk being marginalised."

The Resilio roll (1) has a dual layer covering consisting of a hard rubber (97° Shore A) sub-layer (5) at normally 10-20mm thick, combined with a relatively softer rubber (70° Shore A) top layer (6) at 2mm thick. At the critical thickness of 1-2mm, the elasticity of the top layer combines with the high density of the sub-layer. The effective Shore A hardness of the combination of the two layers falls in the range of 80-85°.