Monocapa unwinding device for leather & textile industry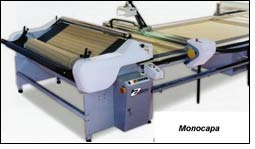 Autex-Int. S.L.L. offers Monocapa. Monocapa is the ideal unwinding device to be used with conveyor type one-ply cutters. It is specially designed for the leather and textile industry that manufactures several different products such as shoes, upholstery, special clothes, leather goods, technical textiles, etc.

Since 1973 Autex-Int. S.L.L. has offered a wide range of spreading machines with accessories to cover our customers needs and expectations. We have grown year after year adapting our machines to the last technology of the moment in order to offer the best product of the market, always developing new ways of cutting and spreading and looking closer the latest currents in fashion, new fabrics, new tendencies...

Furthermore, we have trained a professional team with many years of experience and highly qualified in offering services and solutions. Our target is to keep being a global reference in the market of spreading machines and keep offering solutions to our customers, always taking care of the quality.

Autex-Int. S.L.L.