Daily worldwide cotton market report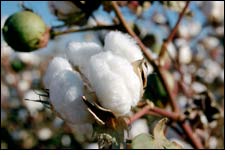 Last night in New York futures market, May 2009 closed at 47.12 with a loss of 103 points with a volume of 8813 contracts traded, the July 09 closed at 47.93 with a loss of 105 points and the volume traded under July cover remained 8192 contracts, while the October closed at 50.73 with a loss of 105 points, the business volume under October cover was 3 contracts. The "A" index once again declared settled at 56.40 with no changes today.

The spot rate of KCA remained firm and strong, as the settlement declared at Rs. 3450/= with no changes today. In the domestic market 1676 bales of Sadiqabad sold at Rs. 3450/, 400 bales of Burewala sold at Rs. 3600/=, 400 bales of Lodhran sold at Rs. 3600/=, 800 bales of Fazilpur sold at Rs. 3400/= to Rs. 3500/=. 200 bales of Chiron changed hands at Rs. 3385/=

According to Cotlook, "a continuous strengthening of prices has characterized the domestic market over the past several days. This has been attributed to the absence of any fresh news on government policy matters. Mills are said to be lobbying for allocation of additional import quota on the 'sliding-scale' tariff, complaining that cotton prices are rising but yarn sales remain stagnant, though note is taken of the fact that no special quota was forthcoming to facilitate the participation of cotton buyers in the forthcoming procurement delegation to the united states."

In a second article from Cotlook reported that, "china customs data show that exports of textiles and clothing recovered moderately during March, though cumulative figures for the first three months of the year were down 15.6 and 5 percent, respectively. The Keqiao textile index (a broad measure of textile prices, supervised by the ministry of commerce) has risen from 90.44 to 90.6 this week."

Ghulam Rabbani & Co.