Schaeffler's linear actuators can be used in carpet industry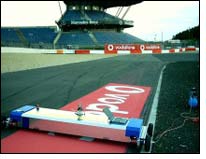 Due to rapid developments in automation, assembly, machine tools and other special purpose production machinery, machine designers and builders require complete driven linear assemblies, which help optimise performance of the machine and minimise development costs and lead times.

At this year's Machine Building, Drives & Automation exhibition, Schaeffler (UK) Ltd had showcased its range of driven linear units, including belt- and ballscrew-driven linear actuators, linear tables, control systems, servomotors, motorised gearboxes, fasteners, connectors and mounting brackets.

Driven linear units – which typically incorporate high precision linear guidance systems, rigid support rails, servomotor drives, gearboxes and control systems – must be compact, high performance, modular systems to suit a wide range of applications.

Schaeffler offers a comprehensive range of linear guidance systems that are based on the company's linear ball bearing and guideway assemblies or track roller guidance systems. These are driven by either a ballscrew or by one of three different toothed belts.

Flexibility to match the customer's requirements is important for machine builders. Schaeffler is able to provide linear products that match these requirements, as well as expert advice and guidance from the machine design stage right through to initial operation.

With linear actuators, high inherent rigidity of the support rail is critical for many machine builds. Other requirements and design considerations for the machine builder may include: high load and moment carrying capacity of the linear guidance system; high axial load carrying capacity; high rigidity; dynamics of the drive system; low moving mass; long operating life; and low maintenance requirements.

John Loonam, Linear Product Specialist at Schaeffler UK comments: "We offer a comprehensive range of linear guidance systems, actuators, drives and controls for every type of application. Schaeffler's linear actuator series, for example, now includes a four-row compact module, a six-row tandem actuator, as well as all the fasteners, connectors and mounting brackets that customers require to build and install a complete driven linear system. In addition, our ball monorail guidance systems can be supplied with new corrosion resistant coatings and materials for harsh operating environments such as food and beverage production machines and machine tools."

Schaeffler driven linear units can also be found in precision assembly and handling machines, clean rooms, transfer systems, electronics manufacturing, packaging machines, medical equipment and precision measuring machines.

For moving larger masses in one or multiple axes, Schaeffler offers linear tables or stages, which due to the large distances between support points, are capable of supporting high torques. The guidance systems in these stages are based on linear ball bearings or on linear ball bearing and guideway assemblies. Linear stages are available with ballscrew drives or trapezoidal lead screws.