Oerlikon enforces strict corporate program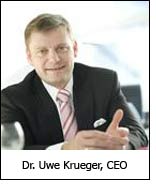 The Oerlikon Group was impacted by the global recession in the first quarter of 2009. Even Oerlikon's core businesses, which proved to be largely resilient in 2008, felt the global economic crisis. In anticipation of a challenging market environment in 2009, Oerlikon has rolled out a corporate program consisting of three defined work streams. "We respond to the current market situation with major restructuring and broad contingency measures, steps to secure our financial stability, as well as further focusing the portfolio," says CEO Dr. Uwe Krüger.

Orders received for the Oerlikon Group's continued operations were down to CHF 599 million or -46 percent, year-on-year. Orders on hand amounted to CHF 1 298 million (-24 percent). Sales fell by 42 percent year-on-year to CHF 657 million in the first quarter of 2009. The cause for this decline in volume is the worsening global recession, which has taken hold of Oerlikon's main markets, in addition to the continuing crisis in the financial sector. These factors led to a general reduction in demand and made it considerably more difficult to finance large projects in machinery and plant engineering, notably in Solar and Textile. "The declining market, first broadly experienced in Q4 2008, deteriorated further at the beginning of 2009. Counter measures enforced earlier in the year will help to alleviate the impact of this severe downturn predominantly in the second half of 2009," comments Dr. Krüger.

The continued weakness of the global textile market resulted in a drop in Oerlikon Textile sales of 58 percent year-on-year to CHF 196 million in the first quarter of 2009. Oerlikon's core businesses Coating, Solar and Vacuum posted decreases in sales of over 30 percent due to the worldwide reduction in industrial production. Oerlikon Drive Systems was hit hard mainly by the downturn in transportation-related industries, with a 31 percent decline to CHF 213 million.

In anticipation of a further deterioration, all business units developed contingency plans at the end of 2008. These plans were expanded and embedded into a comprehensive corporate program in early 2009 with three areas of focus - restructuring and contingency measures, securing the company's financial stability and further focusing the portfolio on the core interface and surface technologies. All work streams are now under full implementation.

Restructuring: In the first three months of 2009, the Group's headcount was reduced by nearly 700 employees to a total number of 17 710. At Group level almost 6 000 employees are working shorter hours. Oerlikon Textile is rigorously executing on its Simplify program, including a reduction of the production sites by 50 percent, product portfolio pruning by 25 percent and reduction of fixed costs by 20 percent until 2010. Short time work was nearly doubled to approx. 2,000 employees. Further measures aim to reduce the break even point by additional CHF 200 million to a total reduction of CHF 500 million until 2010 (compared to 2007). Oerlikon Drive Systems is in the process of improving operational flexibility and profitability via an extensive package of measures. Nearly 3 000 workers are on short time. Oerlikon Balzers announced in March that it would cut another 250 jobs worldwide. Oerlikon Solar will reduce its headcount by 60 positions. At Oerlikon Vacuum 750 employees are currently working shorter hours. Despite these tough times, Oerlikon continues to honor its obligations as a company that trains young people. The number of new apprentices at the Balzers/Trübbach location will climb to almost 100 people in 2009.