Innovative way to control temperature & ventilation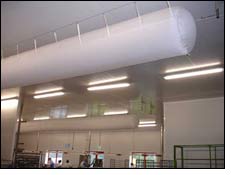 Be it hot or cold, cool or warm, damp or airless: the way we feel the atmosphere is of fundamental importance for our efficiency, and this is especially so at work. Series of scientific tests have shown that people undertaking light activity at room temperatures of around 20°C find air speeds over 0.2 metres per second to be uncomfortable. Climatic conditions assume a no less important role, in the food industry for instance, where foodstuffs can spoil if the same temperature is not maintained at each stage in the production, storage and sales areas.

Conventional HVAC (heating, ventilation & air conditioning) systems mostly operate with ventilation ductwork made from metal. Being good conductors of heat, however, metal ducts are liable to fall below the dew point and are susceptible to humidity. Cleaning them is no easy matter, since they are difficult to access. Consequently contaminated air and bacteria may become the source of impurities that are hazardous to health. In addition, unpleasant draughts may affect the workforce, since metal ducting blows cold air into spaces, like large wind machines.

In contrast, air cooling using textile ventilation systems is based on the displacement principle. With textile ductwork the total surface functions as an air outlet. Air enters at a low speed, inflating the textile sock. The resulting pressure dispels air through the fabric uniformly and releases it gently into the surroundings.

With its textile ventilation systems, Airtex GmbH, a specialist in HVAC products, offers customised solutions for every workplace and area where particularly high requirements exist in terms of clean air and the systems make for a pleasant environment.

The selection of the right material is critical when it comes to the functional properties, lifespan and appearance of textile ventilation ductwork.

The latest generation of such ducts from Airtex is made of Trevira CS Bioactive material. As a supplier of textile ventilations systems, Airtex uses the combination of flame retardant and antimicrobial properties of Trevira fibres in the HVAC field. The Airtex Bioactive fabric is, in addition, antistatic and non-absorbent. Resistance to abrasion is very good, both in wet and dry conditions. At the same time it works as a highly effective filter. The special textile surface retains particles of dirt, mould and bacteria. In all this Airtex Bioactive remains permanently durable and the anti-microbial and flame retardant properties are unaffected, even after frequent washing. Airtex textile channels achieve a lifespan of 10 to12 years.

Thanks to its built-in safety concept, Airtex Bioactive is ideally suited for use in areas where high requirements in terms of hygiene apply, such as the food or electronics industries, in laboratories and hospitals, production halls, refrigerated warehouses and supermarkets. Textile ducts are also found in refrigerated transport, in office blocks, hotels, discothèques, theatres and residential buildings.