Daily worldwide cotton market report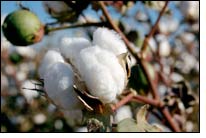 Last night in New York futures market, July 09 closed at 53.34 with a gain of 59 points, the October 09 closed at 55.29 with a gain of 34 points, while the December 09 closed at 56.68 with a gain of 67 points.

The A index declared settled at 59.00 with a decrease of 25 points today.

The spot rate of KCA remained firm and strong, settlement declared at Rs. 3550/= with no changes today. In the domestic market no reportable business observed today because of recent unrest in the country.

Ghulam Rabbani & Co.