Interfilière promotes optimism!!!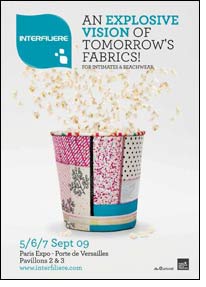 As the only upstream trade show coinciding with September's fashion trade shows at Porte de Versailles, Interfilière makes the most of its unique position, taking advantage of these synergies to stand out from the crowd. The expo to be held on 5/6/7 September, 2009 at PARIS EXPO - Porte de Versailles (Halls 2 & 3).

An international leader (70% of exhibitors and visitors travel from abroad) dedicated to the intimates and beachwear markets, Interfilière is a source of inspiration for all markets. A veritable trend-spotter, Interfilière distinguishes itself through the quality and creativity of its exhibitors, capable of offering innovations, ideas and originality to the industry as a whole, whether manufacturers, designers, stylists or retailers…

The newly-designed communication media, highlighting these strengths, aim to convey a positive and exciting image of a trade show offering an explosive mix of dynamism, creativity and conviviality: Interfilière is a focal point for networking and business, offering an unrivalled range of intimates and beachwear, combined with genuine fashion vision.

In these times of economic uncertainty, Interfilière works alongside manufacturers to accompany and assist them in their quest for business opportunities, to ensure that participating companies find this session effective and successful: in short, Interfilière promotes optimism!

A COMPREHENSIVE AND INTERNATIONAL PRODUCT RANGE!
300 exhibitors from 26 different countries are expected with 6 different sectors: Lace It (quintessential lace), Brod'Cust (all the magic of embroidery), Neoskin (the heart of the product range with knits, wovens, prints, embellishment), Access'Folies (a treasure trove of finishing touches: beads, braids, buttons, ribbons, hooks-and-eyes, bra-cups…), Hi'Tech (yarns, fibres and machines, the latest technologies that make all the difference) and Textile Designers.

New exhibitors:
• LUETTGES GMBH (Germany), accessories and supplies.
• GATHER NO MOSS (UK), textile designer.
• SEDATEX, SA (Spain), wovens, knits, technical fabrics for intimates, beachwear, ready-to-wear, sport-fitness…
• MARCO LAGATTOLLA (Italy), lace.
• BRODERIES DESCHAMPS (France), embroidery.
• DJIC LIMITED (Taiwan) knitted fabrics.
• HONGJI HONG HUA (Hong Kong), machines.

NEW!
To round off the product range, Interfilière is joining forces with Mode City's "The Club made in Euromed" a new zone dedicated to Euromed production capacities (in France, Italy, Poland, Portugal, Tunisia, etc.) specializing in intimates and beachwear.

EVERY BUYER IS A GUEST!
Generally speaking, Interfilière is visited by the major international brands (70% of visitors come from 113 different countries), represented by decisionmakers in the fabric sourcing domain (74%).

Interfilière's visitors can be divided into two main groups:
• 62% are manufacturers, with 78% working in the lingerie sector and 12% in beachwear.