Cotton production continues slide in 2009/10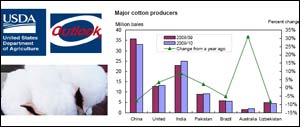 USDA's first 2009/10 world production forecast is 106.5 million bales, down 1.3 percent from the 2008/09 estimate. If realized, 2009/10 production will be the third consecutive year of decline in world output. China is expected to account for most of the global production decline in 2009/10 with a crop forecast at 33 million bales, down 2.8 million bales (8 percent) from 2008/09. Production in 2009/10 is also expected to decline in Brazil to 5.5 million bales (5 percent) and in Uzbekistan to 4.5 million bales (8 percent) from the 2008/09 crop estimate.

The impact of these declines on global production is expected to be slightly cushioned by rebounds in Australia and India. As shown in figure, the 2009/10 Australia crop is forecast at 1.9 million bales, up 31 percent from 2008/09. The prolonged drought in Australia in recent years has been giving way to increased precipitation and replenished irrigation supplies. In India, the 2009/10 crop is forecast at 25 million bales, up almost 9 percent from the 2008/09 crop estimate. This unprecedented output in India is expected to result from a combination of continued government support, increased area and yield, and the extensive use of the better yielding Bt cotton varieties.

Most economic forecasts and indicators show the world economy bottoming out from the sharp decline either in late 2009 or sometime in 2010, a scenario that is reflected in the slowing of the production decline in 2009/10. World cotton area in 2009/10 is forecast to decline 1.6 percent to 30.2 million hectares, continuing a downward trend in harvested area which began in the 2004/05 marketing year. Relatively higher prices for alternative crops—mainly food grains—and continuing concerns over credit constraints remain factors in 2009/10 planting decisions.

World cotton consumption in 2009/10 is forecast at 113.5 million bales, rebounding 3.2 percent from the 2008/09 mill use estimate. The increase in 2009/10 consumption follows macroeconomic projections that indicate that world gross domestic product (GDP) growth will improve in 2010. Historical analysis shows a strong positive correlation between cotton mill use in any given marketing year and the GDP growth rate in the subsequent calendar year. Consequently, the 2009 marketing year consumption growth is not expected to be particularly large because GDP growth in the 2010 calendar year is expected to be well below the average of the pre-crisis era. The decline in cotton prices in 2008/09 also helps explain the expected growth in cotton consumption in 2009/10.

The sharp downturn in world 2008/09 consumption—the largest percentage change on record—represents a much larger response in volume than changes in retail sales would suggest. This seems to indicate that reductions in yarn inventories are larger than reductions in end use. This phenomenon would be consistent with the "bullwhip" or "whiplash" effect on inventories, in which reductions in demand and credit availability are magnified on upstream suppliers. Thus, the 2008/09 collapse in world cotton consumption was a combination of reduced consumer purchases at the retail level and responses along the supply chain. Similarly, the expected increase in 2009/10 global consumption will include responses both at the retail and supply chain levels.