LANXESS steps up research and development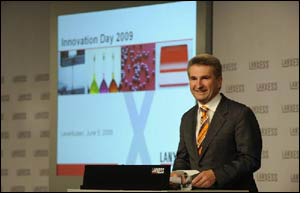 And the Leather business unit will be presenting a new technology that provides leather with long-term protection against soiling. The new water-based product range makes leather resistant to cleaning without affecting key functional properties, a breakthrough that gives LANXESS the technological lead in this field of leather manufacture.

110 research projects completed in 2008
The Innovation Day forms part of a campaign focusing on research and development at LANXESS.With targeted investments, the specialty chemicals group has completed 110 research and development projects in the past year alone, and there are around 100 projects in the pipeline at present. Over 450 employees are currently working on new ideas at the specialty chemical group's research centers around the globe.This figure is 11 percent higher than in 2007 and is set to rise still further.

Most of LANXESS's research and development departments are still located in Europe – mainly in Germany, France, Belgium and Italy. These account for almost 350 employees. The number of new patents granted quadrupled between 2006 and 2008, and the Group currently holds around 6,300 patents in total. The top priority for innovations at LANXESS is their cost-effectiveness. "Our aim is to translate all innovations and product enhancements into marketable products as quickly as possible. We are planning to have 80 percent of our current R&D projects ready for the market within two years," explains Breuers.

Cooperation with leading universities and institutes
LANXESS works with numerous universities and research institutes worldwide – including the renowned MIT in Boston, the University of Shanghai and the Aachen University of Technology. This gives the company access to fundamental research in all the relevant disciplines such as catalysis, material research and nanotechnology.

Membership of many different research organizations and committees is also an established part of the LANXESS culture of innovation. For example, the specialty chemicals group is working with the Innovation Ministry's working group to pool innovation resources in North Rhine-Westphalia, with the VCI (German Chemical Industry Association), and with CLIB2021 (the Cluster for Industrial Biotechnology).

LANXESS is a leading specialty chemicals company with sales of EUR 6.58 billion in 2008 and currently around 14,600 employees in 23 countries. The company is represented at 44 production sites worldwide. The core business of LANXESS is the development, manufacturing and marketing of plastics, rubber, intermediates and specialty chemicals.