Daily worldwide cotton market report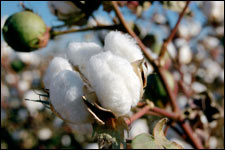 Last night in New York futures market, July 09 closed at 53.10 with a loss of 300 points the volume traded was 8718 contracts, the October 09 closed at 56.15 with a loss of 300 points and the volume traded was 415 contracts, while the December 09 closed at 58.22 with a loss of 300 points and the volume traded under December 09 cover was 7838. The cotlook A index declared settled at 62.65 with a decrease of 10 points today.

The spot rate of KCA remained firm and strong and the settlement declared at Rs. 3450/= with no changes today. In the domestic market today 200 bales of Sanghar new crop sold at Rs. 3500/=.

Cert stock supplies continue to mount ahead of the upcoming July delivery period. This has widened the intercrop spread to 488 December over July.

"The New York Fed's "Empire State" general business conditions index fell to minus 9.41 in June from minus 4.55 in May. Economists polled by Reuters had expected a June reading of minus 4.5, and the surprisingly weak result challenges analysts who believe the U.S. economy is poised for a rebound."

China's May retail sales were up 15.2% versus last year after April's 14.8% increase. Industrial output increased 8.9% in May compared to April's gain of 7.3%. The data indicate that the $586 billion government stimulus plan to build infrastructure is helping to offset the sharp decline in exports.

"Speaking at last week's 2009 China International Cotton Conference, Mr. Wang Fujun from the Agricultural Development Bank (ADB) outlined the support it has given to the cotton sector and asserted both that such support will be maintained, and that additional measures may be forthcoming. The ADB has extended cotton loans of over US$50 billion, and in addition has given support for cottonseeds, assisted the operations of the state reserves, provided finance for fertilizers and extended loans to the spinning and weaving sectors.

Looking ahead, Mr. Wang called for strengthened cooperation and coordination between cotton bodies and called on the textile industry to adjust its development strategy. In the last mentioned respect, Mr. Wang noted that spindleage today exceeds one hundred million - three times the number of ten years ago. He also called on enterprises to augment their financial reserves."

The combination of overnight rains in West Texas and the sharp rally in the U.S. dollar index is pressuring cotton futures in line was the overall deflationary environment in the general commodity arena. A test of last week's lows basis the July 54.50 area can be expected.

Polyester intermediate prices rose in the last three days in Asia, as a result of higher crude oil prices which boosted raw material costs of PTA and MEG producers. Profits of paraxylene producers are now sharply falling with spot prices being therefore stabilized. Polyester prices followed the same trend in the last days, with filament POY even rebounding on Monday in China.