ShanghaiTex gains great support from exhibitors & textile industry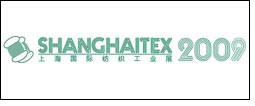 The biennial prime event and the largest textile machinery exhibition in 2009, The 14th International Exhibition on Textile Industry (ShanghaiTex 2009), closed successfully on June 15, 2009 at Shanghai New International Expo Center, Pudong, Shanghai, PR China. Over 1,000 exhibitors from 22 countries and regions have participated to exhibit the latest textile machinery and technology. The 4-day show has attracted about 50,000 local and overseas visitors and buyers.

Guests & Experts Gathered at ShanghaiTex 2009
Important guests visited ShanghaiTex 2009 on the opening day, including Mr. Gao Yong, Vice President of China Textile Industry Association and President of China Textile Machinery Association, Mr. Yu Chen, Vice President of China Council for the Promotion of International Trade Shanghai Sub-council, Mr. Xi Shi Ping, Chairman of Shanghai Textile Holding (Group) Corporation, Mr. Zhu Yong, CEO of Shanghai Textile Holding (Group) Corporation, etc, who have given much appreciation to ShanghaiTex 2009.

Given the financial tsunami, global economic downturn, threat from H1N1 swine flu, and the difficulties encountered by overall textile industry, Chinese textile enterprises are facing great challenges. However, with the strong confidence in China economy and the branding effect of ShanghaiTex built up in the past 25 years, ShanghaiTex 2009 attracted 49,348 visitors and buyers from 40 countries and regions, while the quality and professionalism of visitors are highly appreciated by exhibitors.

It was also encouraging that the on-spot reserved sales reached RMB100 million on the first two days of the exhibition, which was even better than ShanghaiTex 2007. Transactions of printing & knitting machinery are more active, especially for circular knitting machines, laser-printing machines, warp machines, etc. Some exhibitors received more orders than their expectations.

Great Support from Local & Overseas Associations
Apart from the generous support from 16 provinces in China, including Zhejiang, Jiangsu, Fujian, Anhui, Hunan, Sichuan, Jiangxi, Heilongjiang, Henan, Guangdong, Shandong, Guizhou, Shanxi, Xinjiang, Yunnan, Hubei, etc, ShanghaiTex 2009 has also gained support from nearly 20 local and overseas textile associations by organizing buyer delegations to visit. Overseas associations including Indian Textile Confederation, Indonesia Textile Association, Japan Fiber Association, Korea Textile and Apparel Association, etc.

Chinese textile end-user associations including Shenzhen Textile Trade Association, Foshan Zhangcha Knitting Chamber of Commerce, Lishui Textile Association Nanhai Foshan, Shantou Textile & Garment Profession Chamber of Commerce, etc.

Besides, Chinese enterprises including Luthai Textile, Sunshine Group, Nantong Douelegreat Textile Co., Ltd, Mhlace Co., Ltd., Changshu Huamao Textile Co., Ltd., Toray Sakai Weaving & Dyeing (Nantong) Co., Ltd (TSD), Jiangsu White Rabbit Textile Group Co., Ltd, Septwolves Industry, Shandong Ruyi, Mesbon Chemical Fibre, Frousans Knitting, Shanghai Threegun Group, Xiamen Hualuv Printing & Dyeing Co., Ltd, etc and renowned overseas buyers including fashion house H&M, sport chain store Columbia, Esquel, etc, have visited ShanghaiTex 2009. They all stressed that ShanghaiTex is an international prime textile event and a premier trading and informative platform.

Despite the challenges of global economic downturn, ShanghaiTex 2009 has gained great support from exhibitors and textile industry. Exhibition area of ShanghaiTex 2009 reached 100,000sqm, and the show attracted over 1,000 local and overseas enterprises to participate, including Fong's, Brazzoli (Italy), Santoni SPA (Italy), Karl Mayer (Germany), Stoll (Germany), Oerlikon (Swiss), Santex (Swiss), Siemens, Sinoca (Hong Kong), Gofront (Hong Kong), Chemtax (Hong Kong), Wellknit (Taiwan), Falmc (Singapore), Shima Seiki (Japan), Donglin (Taiwan), Ningbo Yuren (China), etc, to showcase their latest & hi-tech machineries, technologies and solutions.

Mr Sam C.S. Hwa, president of En-Hwa Industrial Co., Ltd. from Taiwan province, has been visiting ShanghaiTex on every edition since its debut in 1984 and witnessing the growth and progress of the exhibition during these 25 years.

"I am glad to see that the exhibition has been held continuously with quality of exhibitors becoming better and better, the products displayed are the latest ones, and exhibition service has been improving too. I visit the show every edition. I always regard ShanghaiTex as one of the important events to visit and plan the visit one year ahead of the show!" Mr. Siyaram from India appreciates ShanghaiTex to group the exhibits by product categories, and thinks this is very convenient for the buyers. According to onsite visitor survey, over 90% of the overseas buyers were satisfied with the exhibition.