Technical textiles can help improve safety of built environment – Expert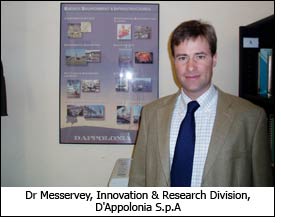 Textile materials are used extensively in construction. In geotechnical applications, these materials provide reinforcement for slopes, retaining walls, roadways, embankments, as well as various drainage structures. In masonry applications, technical textiles are growing in importance as they provide a non-intrusive technique to increase the reinforcing strength (typically shear) of the structure.

D'Appolonia S.p.A. is an engineering company headquartered in Genova, Italy. The company has a multidisciplinary staff with extensive capabilities in the earth sciences, civil and environmental engineering, risk assessment, health and safety, system and transportation engineering, and space and defence. The Company serves a broad range of industries, private companies, architects, engineers, contractors, research organizations, and national and international government and financial agencies worldwide.

Fibre2fashion spoke exclusively to Dr. Thomas B. Messervey, Head, Monitoring Group, Innovation & Research Division, D'Appolonia S.p.A to educate us and our readers on the use of technical textiles in building construction and particularly re-construction.

We began by asking him as to how the concept of usage of technical textiles in construction began to develop, to which he said, "The use of technical textiles in construction is a natural evolution of progress in the construction industry as we have always sought to improve materials, methods, and practices to make infrastructure more reliable, better performing, longer lasting, and less expensive".

Next we asked him to delve on the extent of research conducted by his organisation on the same, to which he replied by saying, "D'Appolonia acts as coordinator for the European funded project "Polyfunctional Technical Textiles against Natural Hazards (POLYTECT). This project integrates the skills of 27 partners which include textile producers, textile machinery manufacturers, sensor and instrumentation companies, companies that specialize in nanoparticle-enhanced mortars, research centres, universities, and of course end-user construction companies".

He continued, "The task of this consortium is to develop, test, and establish standards for the technical construction textiles of tomorrow. To do this, POLYTECT develops sensor-embedded textiles for geotechnical and masonry applications. As such, these textiles have two important functionalities, reinforcement and monitoring. Reinforcement allows the stabilization of soils and embankments for geotechnical applications and for masonry applications such reinforcement can be the determining factor in whether or not a structure can withstand an earthquake".

"Instead, the monitoring function of these textiles provides information that enables the engineer to better understand the in-service behavior of the infrastructure over time and the ability to assess its status after an extreme event. It is a pleasure to point out that the Indian Institute of Technology Madras (IIT Madras) is a member of the POLYTECT consortium and is assisting with the modeling and prediction of these textiles and mortar systems when applied to masonry construction".