Minister of Textiles invites Japanese investment to India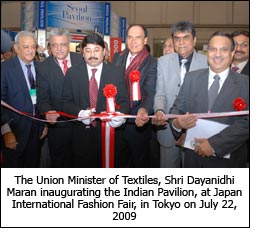 Mr. Dayanidhi Maran, Minister of Textiles has invited the Japanese textiles industry to collaborate with Indian textiles industry in manufacturing of fabric and garmenting, setting up of green field units in textiles machinery, manmade fibre and yarn and create brand equity with Indian apparel companies. After the inauguration of Indian Pavilion at Japan's premier International Fashion Fair earlier, Mr Maran was addressing Business Meet hosted by the Japan -India Business Cooperation Committee (JIBCC) on "Current status of Growing Textiles Industry and investment opportunities" in Tokyo. Mr Yoshihiro Watanabe, Chairman JIBCC, Mr Eiichi Ono, Vice Chairman, the Standing committee of JIBCC and Mr Hideaki Suzuki, Secretary General, JIBCC welcomed Mr Dayanidhi Maran, Mr Hemant Krishan Singh, Ambassador of India to Japan and official delegates.

During the interaction with the top fifty Japanese businessmen, which included many from textiles industry, the Mr Maran apprised them of various advantages in investing in India, particularly, in textiles sector, which has a highly skilled workforce, high capital-employment ratio and immense potential to promote employment,and a strong and diverse raw material base. India is the largest producer of Jute, second largest producer of Cotton and Man-made fibre and yarn, and third largest producer of Silk. India has a vertical and horizontal integrated textiles value chain, and represents a strong presence in the entire value chain from raw material to finished goods. The average labour cost in India is US$ 0.7 per hour compared to US$ 20 per hour in Japan, the Minister added.

Outlining the investment scenario in the Indian textiles sector, Mr Maran said that the investment is expected to increase from US$ 22.3 billion in 2004-08 to US$ 30.9 billion by 2012. Indian textiles and apparel exports, which are currently US$ 22 billion, are expected to register four folds increase to touch US$ 90-100 billion in the next twenty five years. The Minister said that approximately 60% of Indian exports of textiles and over 70% of clothing are to USA and EU 27 markets. There is an urgent need to broaden product mix and explore new markets,while maintaining and increasing Indian textiles and clothing (T&C) share in core markets through product innovation and diversification. To diversify the T&C exports and reduce dependence on USA and EU 27, the Government is promoting exports to Japan and South East Asia under its 'Look East Policy'. An important component of this policy is to bring Foreign Direct Investment (FDI) in textiles sector, which has attracted only US$ 821.70 million during the past 15 years, said the Minister. Japan is one of the biggest consumer of textiles and clothing , but India has very negligible market share of 1.12% in the Japanese import basket. Mr Maran emphasized the need for further enhancement of business cooperation to expand our market share , while leveraging the common potential.