Brennels strives to produce fine count nettle fibre fabrics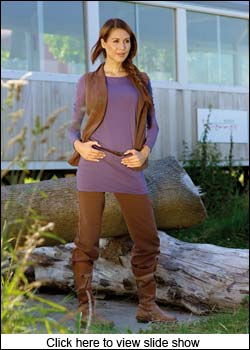 Brennels is carrying out international research in the field of cultivating and processing nettle crops into thread, fabric and fashion for the past 3 years now. About 70 hectares of stinging nettles are cultivated on agricultural farmland in the northern part of the Netherlands.

Brennels creates fashion from environmental friendly fabrics and to process the fabrics, it partners, to manufacture the fabrics. The partners are selected with great care and find it important that the environment is just as obvious for them as it is to Brennels.

Its nettles are not grown organically and nor is its aim to produce an organic product. It wants to offer the consumer an alternative to polluted cotton and the cultivation of nettles in general is much better than that of cotton, whether in consumption of chemicals or water. Chemicals like herbicides and pesticides are not or less necessary for the nettle and it is considered a low-chemical crop.

The most difficult part with bast fibers in general is the extraction of the fibers with the least damage possible. For hemp and linen these processes are much more developed. Stinging nettles need a different approach than hemp and flax, since it is a more delicate fiber.

The fibers do not have a regular staple length for the moment and vary between 25 and 60 mm. To use the same machinery as in flax and hemp is an option, but we find the result not good enough for our application area.

In most cases it damages the fibers too much and it limits in spinning very fine yarns suitable for circular knitting and fine woven shirting fabrics. Of course it is possible to refine the fibers chemically, but this definitely does not match the philosophy of the company. Other than the harm to the environment, the nettle fiber gets brittle from treatments with chemicals.

Due to which, Brennels, developed its own environmental friendly process for the delicate nettle fibers. Jeroen Bos from the R&D department at Brennels figured out the possibility of using bio-digestion in an anaerobe environment to break down all the elements, like pectines and lignines, around the elementary fibers.

When this process is stopped at the right moment, the fibers remain in perfect condition without loss of strength and without feeling brittle. The big advantage is that this process does not need any additional chemicals, enzymes or other auxiliaries. It makes use of the natural enzymes existing on the nettle plants itself that get active in anaerobe conditions.

Right now, they have a very small scale trial set up with which they can process a fair amount for spinning trials. In this way, it will be possible to optimize the process until the finest yarn count possible in 100 percent nettle can be derived, after which Brennels, will upscale its process for larger productions.

Together with Mr Daniele Beringheli of "Filati Maclodio" in Italy, it is also developing fine ring spun yarns from 100 percent nettle fibers, which at first, will be for research purposes to determine the exact properties of the nettle fibers and there are some differences which are apparent in dyeing processes with different percentages.