Launch of Yarn of Excellence for landscaping sector at FSB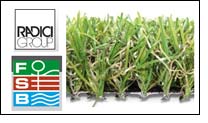 On the occasion of FSB 2009, the leading International trade fair for amenity areas, sports and pool facilities, RadiciGroup will officially launch Radigreen Landscape Excellence, its high-end polyethylene, polyethylene-polypropylene and polyamide yarn line — the result of many years of manufacturing experience in the artificial grass sector — and Radilene, a thermoplastic (TPE) high-performance infill for synthetic turf.

Radigreen Landscape Excellence is a complete yarn line, which complements the more traditional Radigreen Landscape Classic. Two product lines having different properties and performance characteristics in keeping with the specific requirements of urban and residential landscaping, but always in full compliance with international standards on health and environmental protection. Radigreen Landscape yarns are mainly used for interior and exterior synthetic turf installations in the residential sector (gardens, flower beds, balconies, roof gardens, swimming pool surrounds, recreational areas, etc.) and in the commercial and urban sector (hotels, shopping centres, corporate complexes, public parks, cycle lanes, traffic islands, urban flower beds, playground surfaces, etc.)

Radigreen Landscape Excellence is the crown jewel of the RadiciGroup product range and is a real novelty in this sector. Landscape Excellence yarns come in different types and combinations and meld high quality with careful attention to shades and colours. Long life is achieved by UV additives that protect the synthetic turf from degradation caused by exposure to the sun's rays. Furthermore, the exclusive colour combinations make it possible to realize natural looking synthetic turf. Turf that stays beautiful all year long, with reduced maintenance time and cost.

RadiciGroup has always been committed to developing yarns that ensure not only high quality but also safety of use in any environment. "Bringing to market products that are safe and certified is fundamental to the protection of our end users," said Marianna Panico, Tessiture Pietro Radici R&D Supervisor. "In the raw materials selection process, reduction, and eventual total elimination, of heavy metals, such as lead, as well as on the elimination of phthalates and other plasticizers prohibited by the strictest health and environmental safety regulations.

With the collaboration of our raw materials suppliers, we are actively working on providing yarns that are the highest quality not only from a performance point of view, but also from the point of view of safety, in order to dispel all doubts and reassure the potential buyer of synthetic turf made with Radigreen Landscape Excellence yarn. To this end, we turned to the Italian Institute for Toy Safety (IISG), recognized as a Notified Body at the European Commission and the first European laboratory included in the list of accredited laboratories by the US Consumer Product Safety Commission (CPSC) for the determination of the limit values of harmful substances present in toys and children's products in general.