'Intertextile fair is excellent' - Dralon GmbH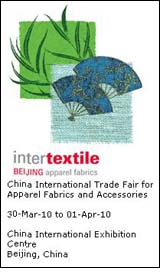 "Since the fair's debut in 1995, Intertextile Shanghai Apparel Fabrics has steadily established itself as the world's largest international business platform for industry players worldwide," said Mr Detlef Braun, Member of Board of Management for Messe Frankfurt GmbH. The 15th edition ran for four-days in 10 halls bustling with open dialogue, creativity and business made at the fair. Nearly 54,000 trade buyers came from over 90 countries and regions to source the latest apparel fabrics and textile related products from 2,459 suppliers from China and around the world. These figures represent an astounding success, up eight percent from the previous year.

To commemorate this achievement, a press conference was held on Monday, 19 October at the Shangri-La Pudong Hotel along with some 60 invited journalists and special guest speakers including Mr Detlef Braun, Mr Du Yu Zhou, President for China National & Textile Apparel Council and Mr Ferdinando Gueli, Deputy Trade Commissioner for the Italian Trade Commission – ICE, Shanghai.

"China is an essential location for the textile industry and this is clearly indicated in the phenomenal technological and brand advancements throughout the region. As a result there are now numerous opportunities for business in this thriving market sector," said Mr Du.

The vast potential of the Chinese textile marketplace is a key factor for many international exhibitors participating at Intertextile Shanghai Apparel Fabrics. This year, nearly 70 percent of the 716 international suppliers were return exhibitors, with special country and region pavilions from Germany, Japan, Korea, Thailand and Turkey while Taiwan had the largest pavilion and Italy the longest exhibiting one, with 10 years of participation. Other features included the fibre pavilions including Invista Group, Cotton Council International, Dow Fiber, the Lenzing Group and Hyosung.

"The Chinese market is very important as there are many possibilities for us. The visitors at this fair are well informed and I have made professional contacts with several buyers," reaffirmed Maurizio Mello Rella of Lanificio Tessilstrona S.R.L.

First time exhibitors were equally impressed with the professionalism of the buyers attending the fair. "The show is very good and there are many Chinese customers. They are knowledgeable and interested in learning more about our products. We will return again next year," said Mr Raul Gonzalez Garcia, Marketing and International Strategic Development for Nylstar SA.

Mr Manfred Borchers, Head of Marketing and Sales for Dralon GmbH agreed with Garcia's sentiments. "The fair is excellent! The buyers know what they want and what they are talking about."

The growing international reputation of the exhibition also attracted a large number of overseas buyers, increasing attendance by 30 percent compared to 2008. The top five visiting countries and regions included Hong Kong, Japan, Korean, Taiwan and the US plus buyer delegations coming from Brazil, the Middle East and Thailand.