MACH2S with air splicer adds value to knitting technology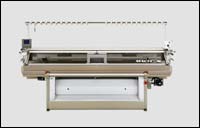 Shima Seiki's MACH2S is an extremely flexible machine which realizes quality knitting in a range of production styles. As a conventional shaping machine, it is capable of all-needle knitting in its available range of 12 to 16 gauge, while Whole Garment knitwear can be produced in half-gauge fabrics.

As the name "MACH" suggests, the MACH2S sets itself apart with its speed and productivity. It achieves an impressive maximum knitting speed of 1.6 meters per second. It furthermore adopts the new R2 Carriage system, permitting quicker carriage returns for greater efficiency and shorter knitting times.

For versatility, MACH2S is even capable of gauge-less knitting whereby a number of different gauges can be knit into a single garment. The great flexibility of MACH2S makes it the perfect choice for adopting Whole Garment production while maintaining flexible support of varying market demands.

MACH2S is capable of performing Whole Garment production allowing an entire garment to be produced on the knitting machine without any linking or sewing. Aside from the cost-savings associated with eliminating post-knit processes, Whole Garment reduces production time and offers on-demand support of new and repeat orders, consistent quality control and elimination of cut-loss and other material waste. Whole Garment products appeal to consumers because of their soft, lightweight comfort and fit brought about by the elimination of annoying seams.

The new R2 (Rapid Response) Carriage System achieves quicker carriage returns after each course. For a given knitting width, a larger and heavier carriage requires more space at each end of the machine to decelerate, return and accelerate back up to speed, so the actual portion where the carriage runs at full speed becomes very limited. With MACH2S's R2Carriage, less space is required for the carriage to make returns, allowing more area for the carriage to run at full speed. This results in significant increases in productivity depending on the gauge and type of fabric.

Standard on MACH2S is i-DSCS Digital Stitch Control System "with Intelligence." i-DSCS carries over the benefits of DSCS, with even better performance. Whereas DSCS is a passive system which controls stitch length and yarn tension by limiting yarn-feed, i-DSCS has the capability to actively control yarn-feed in both feed and retrieval directions as necessary, resulting in even higher quality and greater productivity using a wider variety of yarns. Like DSCS, i-DSCS provides consistent quality among different production batches and repeat orders, and is crucial to the precision knitting required in Whole Garment production

Unlike conventional knotter systems which mechanically tie together yarn ends, the Air Splicer cuts then twists together yarns with a burst of pressurized air with split-second accuracy. Working in precise coordination with the i-DSCS Digital Stitch Control System with Intelligence, theAir Splicer is able to time each splice so that perfect color changes can occur exactly as programmed. With the Air Splicer, high-quality multi-color Whole Garment knitwear can be produced easily and with beautiful results.