NY futures give up further ground this week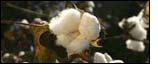 NY futures gave up further ground this week, with March slipping 52 points to close at 73.72 cents.

Even though this morning's USDA supply/demand report as well as the weekly US export sales report were bullish, the market was unable to generate any new upside momentum from it. What's missing at the moment is speculative buying, which has really been the main driver behind this bull market in commodities that had its origins back in March.

While fundamentals have certainly become more supportive in recent months, mills have still not adjusted to this higher price level and merchants seem to be waiting for a dip in prices before possibly getting out of some of their 14.2 million bales in net short futures. As a result we have a very thinly traded market at the moment, with futures (outside of spreading) and options volume being unusually low for this time of the season.

Earlier this week reliable sources in China reported that the government would soon release the TRQ import quota of 0.9 million tons plus an additional 1.0 million tons with sliding scale duties. Further, it is expected that the government will authorize another 1.0 million tons of imports by the second quarter of next year. In total we could see as many as 13.3 million bales in quotas issued this season, which combined with the cotton that China has already imported since August would probably surpass the current USDA estimate for Chinese imports by a wide margin.

The USDA raised Chinese imports by 0.5 million bales to 9.0 million bales in its latest report, but we believe that this is still much too conservative. We wouldn't be surprised to see China import 11 or 12 million bales by the end of this marketing year. The promise of impending quotas has served to calm down the local market and prices have eased around 3-4 cents over the last couple of weeks.

This drop in Chinese prices seems to send the wrong signal to the market, as it is seen as weakness, when in fact quite the opposite is the case. By bringing its market under control with the help of imports, China is simply passing on the problem to someone else. It's like playing musical chairs, with China now having a chair to sit on, while someone else will be left standing.

As the USDA numbers clearly show this is a demand-driven bull market, which is the most powerful kind. The biggest surprise in today's USDA report was the 1.0 million bales increase in world consumption to 114.5 million bales. Increases in China (0.5 mio), India (0.25 mio), Vietnam (0.10 mio) and Thailand (0.075 mio) reflect the economic strength that we have been seeing in the Asian economies.

Since global production was basically unchanged from last month, the seasonal production deficit grew to about 11.8 million bales and the foreign output gap increased to a record 21.0 million bales. Therefore, even if the US ships the 11.0 million bales the USDA currently estimates, there are still around 10.0 million needed and these bales will have to be taken from existing stocks. According to the USDA, global ending stocks are to drop by around 9.3 million bales from last season to just 51.8 million bales, the lowest level since 2003/04.