Al Arafa holdings reports positive growth in Q3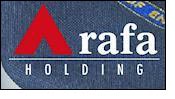 Q3 2009 unfolds a gradual improvement across all three segments of the group. Demand is picking up with Q3 2009 revenues for the Retail; Apparel & Textiles segments up by 18%, 8% & 26% respectively compared to 2Q09.

The appreciation of the GBP against the US$ by approximately 3.4% when compared to Q2 2009 2ill positively impact our consolidated top line.

Retail segment results are back in the black in terms of operating profits with for 3Q09 operating profit at US$ 240K vs. an operating loss of US$ 4.1 million for the 2Q09 reflecting the positive impact of restructure of the Baird Group.

Financial Performance Year to Date

•9 months revenues of US$ 255 million reflect a decrease of 22% over 9 months ended December 20081. The results are negatively impacted by both incomparability of periods due to the seasonality of the retail segment as well as currency devaluation against the US$ in key operations, on a period for period basis, the GBP has been devalued by approximately 17% against the US$. It is noteworthy to mention that the UK retail operations account for approximately 65% of Al Arafa's consolidated revenues.
•EBITDA for 9 months ended October 2009 reached US$ 20.6 million, compared to US$ 32.7 million for the comparable period. The figures reflect a 2% decrease in EBITDA margin to be 8% versus 10% for the comparable period.
•Net profit for the period was US$ 6.7 million compared to US$ 24.6 million for the comparable period.

Financial Performance for the 3 months ending October 2009

•Revenues for the 3 months ended October were US$89.5 million increasing by 12% compared to the 3 months ended July 2009,
•Retail, Apparel & Textiles revenues increased by 18%, 8% & 26% respectively, when compared to 2Q2009.
•EBITDA for 3Q09 was US$ 7 million, a 38% increase over the 2Q09 reflecting a margin of 8% compared to 6% for the 2Q09.
•Net profit was US$ 1.2 million compared to 2.6 million in 2Q09, noting that 2Q2009 profitability was skewed by an exception FX income

UK retail market

Retail market remains dampened by the overhanging state of the UK economy at large. Despite low interest rates & inflation that is boosting disposable income; consumers continue to be cautious in terms of spending.

Nonetheless, despite an estimated 0.9% contraction in the menswear market Q-on-Q consumer confidence is slowly returning to the high street in the run up to Christmas, with 4 Q sales expected to pick up reflecting both the boost to consumer confidence & seasonality effect.

Local retail market

Despite the lack of relatively solid data, anecdotal evidence suggests that, the Egyptian retail market remains fairly robust when compared to other markets.

US Exports

Total imports of apparel by the USA declined by 7.5% as of September 2009, while Egypt's exports of apparel to the USA have increased by 1.1% over the same period reflecting onEgypt's growing position as a garment exporter to the USA.