Teijin to sell entire stake in TEIJIN INDONESIA FIBER Tbk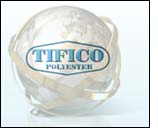 Teijin Limited ("Teijin") announces that on December 18, 2009, its Board of Directors resolved to transfer its entire stake in "P.T. TEIJIN INDONESIA FIBER Tbk." ("TIFICO"), Teijin's consolidated subsidiary (specified subsidiary) listed on the Jakarta Stock Exchange of the Republic of Indonesia, to four companies that have leading Indonesian textile manufacturers within their respective groups.

TIFICO was established as a polyester fiber manufacturing company in Indonesia in October 1973 and commenced operations in July 1976. During its over thirty-year history, TIFICO has been one of the important bases for Teijin's polyester fibers business.

To date, Teijin has implemented a variety of measures such as transferring its fiber production technology, developing new markets as well as training personnel; however, TIFICO's polyester fibers operations have come upon hard times amid intensified competition in the industry, especially from Chinese competitors since around 2000. Under the circumstances, Teijin endeavored to revitalize TIFICO with measures such as transferring its production of semi-differentiated products to TIFICO, expanding TIFICO's exports to Japan and implementing cost reduction initiatives such as energy conversion. Although these initiatives improved TIFICO's financial performance, they achieved a level of profit lower than expected.

On August 3, 2009, Teijin announced restructuring of its polyester fibers business and has since executed structural reforms with a primary focus on "creation of an optimal global production and sales configuration," "decisive reforms in loss-making businesses," and "creation of new business models that will facilitate stable profitability."

2. Details
In line with the policy of the structural reforms, Teijin concludes agreements on December 18 to transfer its entire stake in TIFICO to four companies, namely P.T. PROSPECT MOTOR, P.T. Hermawan Sentral Investama, P.T. Wiratama Karya Sejati and Pioneer Atrium Holding Limited, each of which has leading Indonesian textile manufacturers within its respective group. Teijin believes this transaction provides an optimal outcome for the Indonesian fiber industry as well as for TIFICO's customers and employees.

This transaction will enable TIFICO to reinforce its vertically integrated business of manufacturing polyester fiber, from spinning to weaving and dyeing, forming strong alliances with leading Indonesian textile groups.

With these procedures in place, Teijin's polyester fibers business will have an R&D base in Japan and a main production base for filament yarn and staple fibers in Thailand while continuing to receive supplies of high-quality commodity products from TIFICO. With its network of other plants for subsequent processing and finishing in Japan, China and Southeast Asian countries, Teijin will pursue globally integrated production and marketing targeting its principal markets including Japan, China, Europe and the Americas.