International F&A Sourcing Fair successfully debuts with GARMENTECH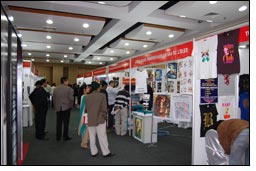 1st International Fabrics & Accessories Sourcing Fair successfully debuts along with GARMENTECH Bangladesh.

Last year has been a testing year for the RMG industry in the world and Bangladesh has come out with flying color With a growth rate which a envy of many competing countries. The challenge in the current year is to maintain and Grow and beat the recession. Though daunting is not an impossible task knowing the resilience of local exporters.

Productivity, skill development, value addition are the solutions suggested by various experts for the Bangladesh RMG industry To keep its lead in the global market and beat the slow down due to recession. In this context GARMENTECH Bangladesh showcased machinery, products from global leaders offering technology and solutions to improve productivity, quality.

Over 150 companies Display Sewing, Finishing, Laundry,Embroidery, Printing, Laser, CAD/CAM, Knitting and Allied Machinery in 200 plus booths at the 9th edition between January 13 and 16, 2010.

Over the years GARMENTECH has become the destination to source latest in apparel technology and allied machinery for the apparel industry in Bangladesh. 9th edition of GARMENTECH Bangladesh 2010 held between January 13 and 16 at the Bangabandhu International Conference Centre Dhaka attracted the RMG industry in large numbers With new sub-events and value additions in the 9th edition drawing a total number of 13,551 business visitors.

" Our survey with the visitors to GARMENTECH Bangladesh in the last two years suggested us to extend the product display Beyond machinery, hence we are expanding the scope of display thru Intl Fabrics & Accessories Sourcing Fair this year. We Are committed to bringing the latest global technology to the doorsteps of our industry in the country." Informed Mr. Zakaria Bhuiyan, Chairman of Zakaria Trade & Fair International the organizers of the event.

Held concurrently with the largest apparel technology tradeshow of Bangladesh, Garmentech Bangladesh 2010, International Fabrics & Accessories Sourcing Fair- Dhaka was a platform conceived to address the apparel fabrics and garment accessories sourcing needs of the Bangladesh clothing and knitwear manufacturers and exporters. 35 Fabrics & Accessories manufacturers & IT service providers from Pakistan, China, Turkey, Germany India and Bangladesh displayed in it.

Display range included in Fabrics : Denim, 100% Cotton and blends with Polyester, Lycra in Solids / Dyed / Printed / Yarn Dyed Fabrics for apparels. Home Furnishing Fabrics, Grey Fabrics, Knitted Linen Fabrics, Voile Fabrics, Canvas Fabrics, Cotton Napkins, Cotton Bed Sheets, Dobby Fabrics, Yarn Dyed Fabrics, Cotton Duck Fabrics, Bed Sheet set and Cotton Bags, 100% Cotton, Polyester Cotton, Polyester Viscose Shirting Fabrics. Highlight of the fabric section is a pavilion by Powerloom Development Export PromotionCouncil, PEDEXCIL, India.