Caddisflies' underwater silk adhesive might suture wounds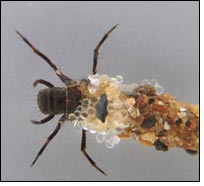 Like silkworm moths, butterflies and spiders, caddisfly larvae spin silk, but they do so underwater instead on dry land. Now, University of Utah researchers have discovered why the fly's silk is sticky when wet and how that may make it valuable as an adhesive tape during surgery.

"Silk from caddisfly larvae - known to western fly fishermen as 'rock rollers' - may be useful some day as a medical bioadhesive for sticking to wet tissues," says Russell Stewart, an associate professor of bioengineering and principal author of a new study of the fly silk's chemical and structural properties.

"I picture it as sort of a wet Band-Aid, maybe used internally in surgery - like using a piece of tape to close an incision as opposed to sutures," he adds. "Gluing things together underwater is not easy. Have you ever tried to put a Band-Aid on in the shower? This insect has been doing this for 150 million to 200 million years."

There are thousands of caddisfly species worldwide in an order of insects named Trichoptera that are related to Lepidoptera, the order that includes moths and butterflies that spin dry silk. Because caddisflies are eaten by trout, fly fishermen use caddisfly lures. Some species spend their larval stages developing underwater, and build an inch-long, tube-shaped case or shelter around themselves using sticky silk and grains of rock or sand. Other species use silk, small sticks and pieces of leaves.

Each larva has a head and four legs that stick out from the tube. The larval case often is conical because it gets wider as the larva grows. A caddisfly larva eventually pupates, sealing off the tube as it develops into an adult fly and then hatches.

Aquatic caddisflies and terrestrial butterflies and moths diverged from a common silk-spinning ancestor some 150 million to 200 million years ago. Caddisflies now live around the world in waters ranging from fast streams to quiet marshes.

"The caddisflies' successful penetration into diverse aquatic habitats is largely due to the inventive use by their larva of underwater silk to build elaborate structures for protection and food gathering," the new study says.

Caddisflies fall into subgroups. Brachycentrus echo, the species Stewart studied, is one of the casemakers, which build their case and then drag it along with them underwater as they forage for food. Some caddisfly larva are retreatmakers, which build a stationary dome-shaped shelter glued to a rock, with a silk net to catch passing food.

Stewart studies natural adhesives, including glue produced in intertidal ocean waters by the sandcastle worm. It has potential as glue for repairing small broken bones. He got interested in caddisfly larva adhesive silk tape after he was contacted by a Smithsonian Institution scientist who showed him several of the tube-shaped larval cases.

"We looked inside a case through a microscope and saw these silk struts between the rocks and realized this is really interesting," he says. "So I came home and put on my fly fishing boots and started wandering mountain streams looking for caddisfly larvae."