Mohawk to introduce green carpeting concept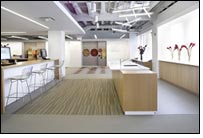 Mohawk International, the world s leading producer and distributor of residential and commercial flooring, is introducing its renowned green carpeting concept to China. The American corporation is showcasing its sustainability concepts and products at a 3-day expo at Hyatt on the Bund in Shanghai from March 23-25.

The Green Carpet - Sustainability That Works workshop is being hosted by Mr. Al Kabus, President of The Mohawk Group on March 23. Under the theme Reduce, Recycle, Re-Use & Renew Green-Eco Sustainable Floorcoverings, the largest recycler in the flooring industry will explain why sustainability makes good ROI business sense. The expo also includes a Green Carpeting Lunch Forum on March 24, at Glasshouse in the East Tower of Hyatt on the Bund.

For over 125 years, Mohawk has been a trusted name in carpets, which are widely used by a lot of offices of major Fortune 500 companies, most of the high-end 5 star hotels in the world, as well as China central government in Beijing Zhong Nan Hai. To give a few examples, 6000 m2 Mohawk carpet with brand Durkan was used at the APEC 2001 meeting at the International Conference Pudong, Shanghai; and this year s World Expo in Shanghai, Mohawk was chosen to provide more than 2000m2 carpet to China Pavilion, being the only foreign carpeting supplier for China Pavilion.

Today the corporation is also renowned for helping customers reach the summit of sustainable design and green building standards. Mohawk s goal is to be a leader in the area of sustainability and environmental responsibility for the industry, the corporation and stakeholders. Just as China is opening its arms to green sustainability, we are also committed to the communities where we live and work as well as our other stakeholders, says Mr. Al Kabus, President of The Mohawk Group.

Quality of life, quality of the environment, quality of products and processes is a by-product of all we do at Mohawk - from the boardroom, to employees on the production floor, to the field sales staff. At the 3 days expo, Mohawk is unveiling latest eco-friendly products from its four distinct carpet brands - Karastan, Lees, Bigelow and Durkan.

The brand is today synonymous with elegant machine-made rugs that rival handmade counterparts, enriching homes and professional facilities with beauty, durability and subtle sophistication. Lees Carpets set the standard for style and proven performance in demanding environments. Lees Carpets can be found in many of the world s busiest airports, corporate spaces, schools, shopping malls, specialty stores and healthcare facilities. Bigelow Commercial is renowned among facility and property managers, on-site decision-makers and designers alike. Its new Surreal Life collection enlivens commercial spaces from the boardroom to the break room with three modular patterns - Spontaneous, Bizarre and Dreamlike.

From the hotel lobby and corridors to guest rooms and ballrooms, casinos, and areas of assisted living facilities, hospitality brand Durkan is world-renowned as an industry leader in innovative design solutions and high style, high-performance hospitality carpeting with its successful Synthesis line - including 12 fresh styles inspired by nature. This largest recycler in the flooring industry believes sustainability makes good ROI business sense. Production as well as Research & Development efforts continually assess alternate materials and process improvements for new products. Environmental stewardship also includes responsible use of raw materials and natural resources, design processes and operations to reduce the impact of our activities on the environment.