SSM AG unveiling eight new products at ITMA 2015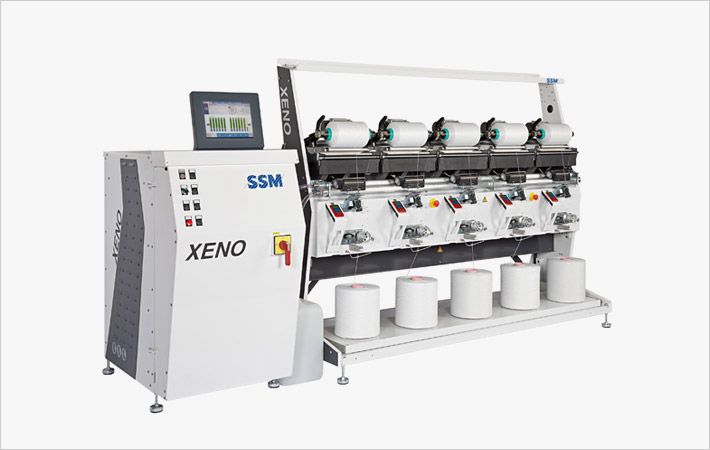 Switzerland based textile technologies producer SSM AG will be unveiling eight new products and showing a total of fourteen applications at ITMA 2015 in hall 2, booth no. A/101 and A/102.

"An inventor of electronic yarn traverse systems, SSM will introduce the new Xeno platform to demonstrate their lead in the market," it said in a press release.

Six new product launches in the winding and doubling segments and two in false-twist & air-texturing are being shown for the first time.

Machines for applications in dye package winding or rewinding, doubling, air texturing, false twist texturing, sewing thread finish winding and conventional covering will be on display.

According to SSM, the new SSM modular winding machine platform, Xeno, combines dye package winding, rewinding and doubling applications with three different winding technologies.

The Xeno is available with counter rotating blades, with friction drive system and with high quality SSM yarn guide system.

"Complying with the growing automation demands due to increasing labour costs, all the Xeno machines can be equipped with an automatic doffer system," it added.

Another advantage and benefit of the Xeno platform is the enhanced Digicone 2 winding algorithm, enabling a 10-20 per cent increase in dye package density with same dyeing recipe.

The SSM Duro-TW precision winder for all technical yarns up to 50'000 dtex offers a new level of flexibility and winding quality in one machine; thereby ensuring all customer requirements.

While, the assembly winder Duro-TD, allows the plying of multiple ends and yarn, either, them being of the same type or completely different.

"Optional intermingling guarantees loop-free twists as well as optimal unwinding during twisting and the ability to run closed precision winding enables higher package densities, thereby increasing the knot-free length," SSM explained.

Another new machine on display is the new TG2 machines, which is an upgraded version of TG1 and comes with an individual, frontal doffing system to allow double-sided concept of the machine.

"The SSM TG2-FT false-twist texturing machine combines a proven texturing path along with a spacing saving machine design," the company informed.

The result is a machine for the cost efficient production of high quality polyamide, polypropylene as well as fine count polyester yarns.