Stunning Bronze Age textiles found in Britain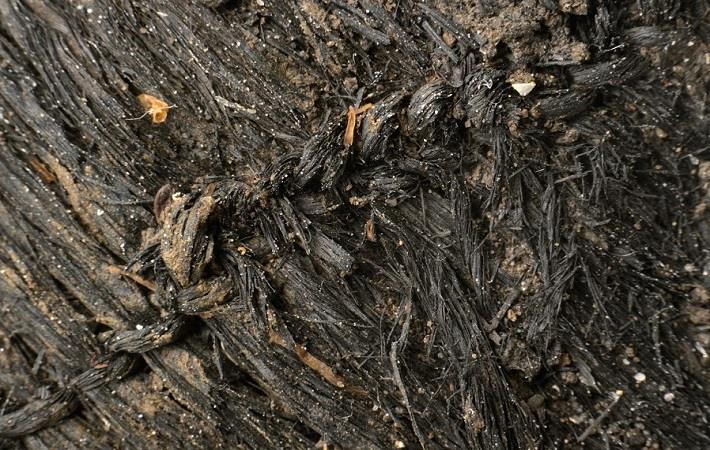 Excavation of a site in the Cambridgeshire fens has found a Bronze Age settlement with a stunning collection of textiles, beads, domestic wooden and metalwork including tools and weapons together with timbers of several roundhouses.

The 10-month old archeological project at Must Farm has yielded Britain's largest collections of a thriving 3,000 year old community that cultivated plants and was well-versed in various stages of textile production.

The findings of textiles and fibres illuminate the stages of textile production, and include hanks of prepared fibre, thread wound on wooden sticks or into balls, and finished fabrics of various qualities. All the textiles appear to have been made from plant fibres.

The people at Must Farm used cultivated species, such as flax, as well as wild plants, such as nettle and perhaps trees, to obtain raw materials. Flax provided the finest fibres and was used to weave fine linen fabrics on a loom, said Dr Margarita Gleba, an archaeologist specialising in textiles, who is involved in the project.

According to Dr Gleba, the linen textiles found at Must Farm are among the finest from Bronze Age Europe. Textiles were common in the Bronze Age but it is very rare for them to survive today.

"Wild fibres appear to have been used for coarser fabrics made in a different technique, known as twining," she observed in an article on the Cambridge University website explaining that researchers used scanning electron microscopy which magnifies more than 10,000 times, to look in detail at the fibre content and structure of the excavated material.

The community living in these round houses were making their own high quality textiles, like linen. Some of the woven linen fabrics were made with threads as thin as the diameter of a coarse human hair and are among the finest Bronze Age examples found in Europe.

Other fabrics and fibres found include balls of thread, twining, bundles of plant fibres and loom weights which were used to weave threads together.

Among other remarkable discoveries made by archaeologists on the bronze-age settlement at Must Farm are circular wooden houses that were perhaps destroyed by a fire that caused the settlement, which was built on stilts, to collapse into the shallow river beneath.

The soft river silt encapsulated the remains of the charred dwellings and their contents, which survive in extraordinary detail at the site that has been described as the 'Pompeii of the fens'.

As the excavation is drawing to a close, archaeologists have been able to put together a near complete picture of domestic life in a Bronze Age house: where activities happened, what the roof was made of, what people were wearing, and how their clothes were produced. The materials found provide evidence of farming, crafts and building technologies.