USDA Dec world cotton crop estimates down 13%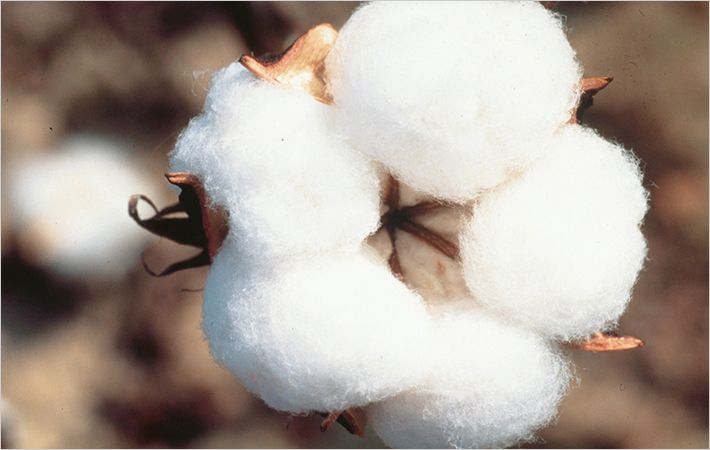 In its latest December report, USDA has forecast world cotton production in 2015/16 at 103.7 million bales, 13 per cent below last season, as lower area combined with a reduced yield push the global crop to its lowest since 2009/10.

"Considerable production declines in 2015/16 for all of the major producers reduce the world crop by more than 15 million bales," the report added.

Global harvested area is estimated at 31.2 million hectares, compared with 34.0 million hectares in 2014/15, while world cotton yield is forecast at 723 kg/hectare, compared with 763 kg/hectare last season.

Production for the top two producers, India and China is projected to account for a combined 51 per cent of the world total, with forecasts of 28.5 and 24.3 million bales, respectively.

For India, the 2015/16 crop is in its second year of decline and matches 2012/13's production and lower area coupled with higher yields combine to reduce India's production one million bales in 2015/16.

"The decline is more dramatic for China, as production is forecast to fall 5.7 million bales in 2015/16 to 24.3 million bales," USDA stated.

With total area declining and area moving out of the lower yielding regions of China, the national yield is forecast at a record 1,534 kg/hectare.

Pakistan's crop is projected at 8.0 million bales in 2015/16, nearly 25 percent below last season, due to reduced area and yield.

Harvested area in Pakistan is estimated at 2.8 million hectares, the lowest in five years as insect damage, as well as reduced pickings, is expected to keep the national yield at 622 kg/hectare, 100 kg/hectare below the 5-year average.

"World mill use is expected to rise 0.9 per cent in 2015/16, its fourth consecutive annual increase, however, this would also be the third consecutive year world cotton consumption has grown more slowly than its long run average growth rate of 1.8 per cent," USDA averred.

World cotton stocks are expected to decline by 7.6 million bales in 2015/16, their first decline in six years.

Despite the decline, expected world stocks are extraordinarily high or equal to 94 per cent of world consumption, which is more than double the average ratio of stocks to consumption that prevailed over seasons between 1980/81 and 2010/11.

According to USDA, the increase in stocks over long run levels is almost entirely attributable to the accumulation of cotton in China's national reserve in the course of supporting its domestic cotton prices.

Stocks outside of China in 2015/16 are expected to equal 35 per cent of world consumption, versus a 1980/81 to -2010/11 average of 31 per cent.