USDA US Dec cotton crop forecast down 2%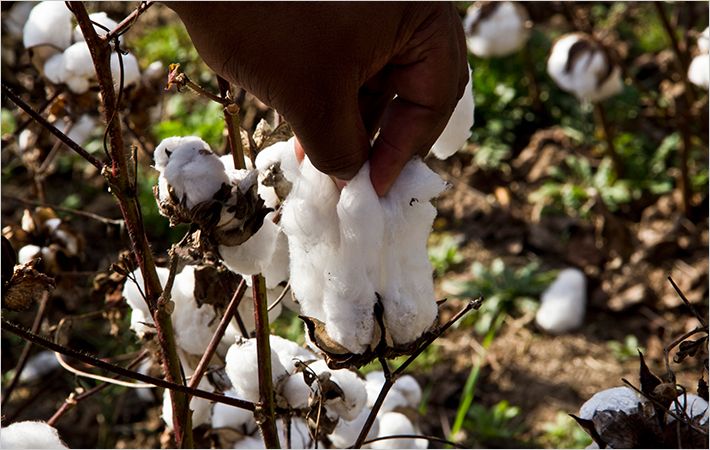 The December forecast done by USDA of the 2015 US cotton production was reduced nearly 2 per cent this month to 13.0 million bales, 3.3 million bales below the 2014 crop.

"Planted and harvested area remains estimated at about 8.6 million acres and 8.2 million acres, respectively," the latest USDA report informed.

According to the report, the relatively low abandonment rate of 5 per cent is the result of plentiful rainfall this season.

The 2015 national yield is projected at 768 pounds per harvested acre, the lowest since 2003/04, while upland cotton production is estimated at 12.6 million bales, compared with the 15.8 million bales produced in 2014.

The extra-long staple (ELS) crop is forecast at 451,000 bales, the lowest in six years and upland cotton production is forecast to decrease in each of the cotton belt regions this season as lower area and yield reduced the crop.

The Southwest upland crop is forecast to approach 6.2 million bales in 2015 as against 6.5 million bales in 2014 and with a relatively low abandonment rate of 6 per cent; the region's yield of 629 pounds per harvested acre is below the 5-year average.

"In the Southeast, 2015 cotton production is estimated at only 3.8 million bales, the lowest since 2009, as lower yield estimates for North and South Carolina contributed significantly to this season's reduction," USDA added.

The region's yield is forecast below the 5-year average at 845 pounds per harvested acre and in the Delta, cotton production is expected to approach 2.1 million bales, the smallest crop there since the Payment-In-Kind (PIK) season of 1983.

"While area there has declined below 1 million acres, the Delta yield is forecast at 1,046 pounds per harvested acre, the third highest on record," the US agricultural agency observed.

In the West, upland production is expected at 511,000 bales in 2015, as water issues continue to limit cotton acreage; the region's production is expected to be its lowest in 8 decades despite a near-record yield of 1,543 pounds per harvested acre.

US cotton demand for the 2015/16 season is forecast at 13.7 million bales, 200,000 bales below last month and nearly 8 per cent or 1.1 million bales below 2014/15.

US exports are forecast at 10.0 million bales in 2015/16, 200,000 bales below last month's forecast, due to lower available supplies and lagging sales.

The current export forecast is nearly 1.3 million bales below last season's shipments, with the lower volume, particularly to China, the U.S. share of global trade is projected at 28 per cent, compared with 2014/15's 32 per cent and 2013/14's 26 per cent.