EFI's Fiery now supports PANTONE PLUS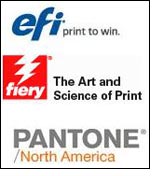 Pantone LLC, an X-Rite company and the global authority on color and provider of professional color standards for the design industries, and EFI, a world leader in customer-focused digital printing innovation, announced Fiery digital print servers and solutions support for PANTONE PLUS. A long-time Pantone partner, EFI was the first vendor to implement PANTONE Calibration for digital color devices and has now expanded its built-in color libraries to include PANTONE PLUS Colors, available to current Fiery users.

Over the years, Pantone and EFI have worked closely to continually provide designers and print professionals with the best color tools and workflows for accurate digital color printing. Fiery technology, together with PANTONE PLUS, provides the best color reproduction possible from every output device - ensuring that spot colors are accurate and dependable. Fiery servers come preloaded with PANTONE Color Libraries, including all colors found in the PANTONE PLUS SERIES, to achieve optimal output whenever a document is printed.

"Eliminating guesswork and costs associated with reworking printing projects is a key component to running a successful printing business," said Andy Hatkoff, vice president of technology licensing for Pantone. "By incorporating PANTONE PLUS on Fiery servers, customers are guaranteed to get spot colors that are accurate and consistent for all jobs."

"The Fiery implementation of PANTONE PLUS streamlines color workflows for millions of Fiery users worldwide," said John Henze, vice president of marketing for EFI Fiery. "Fiery users get the right spot color the first time without the need to manually determine tint values for matching colors in the industry standard Pantone libraries."

With Fiery Spot-On for Fiery servers, users can match color accurately and modify corresponding CMYK values to produce desired "in gamut" colors. Spot-On also allows users to print entire spot color libraries, including PANTONE Color Libraries, which are delivered as industry-standard named color ICC profiles, to ensure users know exactly how PANTONE Colors will be reproduced. PANTONE Color Libraries are used with Fiery output profiles to automatically color manage each PANTONE PLUS Color into the gamut of the Fiery driven output device.

Pricing and Availability
PANTONE PLUS SERIES Products can be purchased from the Pantone website or from PANTONE resellers worldwide. Every PLUS SERIES purchase includes COLOR MANAGER Software free of charge upon registration.

PANTONE PLUS SERIES
A modern evolution of the PANTONE MATCHING SYSTEM, the PANTONE PLUS SERIES offers designers and printers new features and capabilities to fulfill their creative desires. Enhancements include the chromatic arrangement of colors for more intuitive selection, an expanded palette of spot colors, the addition of new premium metallics and a broader range of neons. For more information on the PANTONE PLUS SERIES.