IdeaPad U300s marrying haute technology & high fashion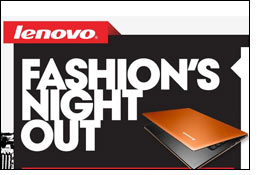 Lenovo bridged haute couture with superior technology at the Lenovo Connections Lounge during Fashion's Night Out (FNO) on Sept. 8, hosting a throng of attendees including Fashion Week designers, fashionistas, consumers and media at New York City's Saks Fifth Avenue.

"The Lenovo brand embodies superior design, similar to the high-end fashion industry," said Tracey Trachta, vice president, Consumer Marketing, Lenovo. "We weave quality and ingenuity into every PC just like the talented artists showcasing their clothing lines at Lincoln Center. Working with Fashion's Night Out provided the perfect platform to bring the Lenovo experience to life, which bridges the best in technology with high style and great design."

Attendees were among the first consumers to try out Lenovo's newest PC launched during New York Fashion Week, the IdeaPad U300s Ultrabook. Taking advantage of the U300s Ultrabooks placed throughout the lounge, visitors tweeted their latest celebrity sightings and updated Facebook friends on stellar FNO designer purchases. The Lenovo Connections Lounge featured one-of-a kind IdeaPad U300s sleeve designs created by young Chinese contemporary artist, Gao Yu, and haute couture fashion designer, Mary Ma.

"The silhouette of the IdeaPad U300s reminds me of an artist sketch book. It's slim and light yet powerful, making it ideal for working on my latest Panda-inspired graphics and capturing inspirations wherever I go," said Gao Yu. "My custom design sleeve for the IdeaPad U300s Ultrabook gave me an opportunity to explore the relationships between human emotion and materialism using popular Western and Chinese symbolisms for love and fortune."

"My fashion design work often takes me to different parts of the world, and the U300s Ultrabook is a great travel companion – super slim for fitting in any handbag and great for a full day of reviewing sketches, watching movies and tweeting," said Mary Ma. "My concept design sleeves for the U300s utilize natural fabrics and textured details to achieve an understated yet sophisticated sense of style."

The Lenovo Connections Lounge was a must-see for high-profile individuals seeking the best Fashion's Night Out events. Actor Shane McRae from the new hit film The Help, accessories and apparel designer Rebecca Minkoff, actress Enid Graham of HBO's premier series Boardwalk Empire and contemporary fashion designer Alistair Carr were just a few who were wowed by the design and features of the U300s.

Lenovo gave away new IdeaPad U300s Ultrabooks to several lucky attendees at the event, and is continuing to award one U300s Ultrabook each day during New York Fashion Week.

The stylish yet powerful IdeaPad U300s Ultrabook provides the ultimate fusion of design and function. At just 0.6 inches (14.9mm) thin, the highly portable U300s is built from a single-piece aluminum shell to create a sleek laptop weighing less than three pounds. Beautiful on the outside and smart on the inside, the U300s comes with up to a 2nd generation Intel Core i7 processor with Intel Turbo Boost Technology 2.0, and boot up in as little as 10 seconds with Enhanced Experience 2.0 RapidDrive SSD technology.