Gander to leverage Revionics' solution to boost profit margins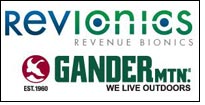 Revionics Inc., the leading provider of retail life cycle price optimization solutions, announced that Gander Mountain Company, the nation's largest retail network of outdoor specialty stores in 23 states, has chosen the Revionics Price Optimization solution which provides both base price management and price optimization. The companies have entered into a two-year agreement. Revionics will help deploy these solutions throughout Gander Mountain's retail stores ensuring optimal monitoring, management and results.

Gander Mountain wanted to move toward a more scientific and strategic approach to its merchandising and pricing strategies and, by adopting Revionics' proven solutions, they will now be able to:

- Achieve optimal competitive advantage for each retail location by ensuring its merchandise is at the right price, at the right time, for the right customer.

- Predict and drive consumer demand and behavior, resulting in stronger same store sales, profit margins and customer satisfaction.

- Provide each of its merchants the ability to become more profitable with their pricing, promotion and markdown strategies without taking away time from their core areas of focus or responsibilities.

"What stood out to us the most about Revionics' Price Optimization solution compared to others in the market, was the ease of usability, good customer interface and the strong track record this solution has gained," said Kerry Graskewicz, executive vice president, merchandise planning and inventory operations, Gander Mountain.

"We had seen how other retailers, such as Holiday StationStores, have improved profit margins by leveraging Revionics pricing solutions to gain an in-depth understanding of price sensitivity, explore 'what-if' scenario planning and ensure the right pricing strategies are in place for Key Value Items (KVI) and product categories. Real-world examples like this made our decision to choose Revionics much easier."

Revionics Empowers Retailers to Optimize with Confidence

Retailers require sophisticated, scalable tools to help them plan, execute and measure their pricing strategies. Customer-centric pricing which incorporates preferences and buying activities compels a retailer to understand how consumers are behaving by store, by channel, and how they shop by item.

Revionics' innovative "Optimize with Confidence" approach is based on providing the industry's most usable science and transparency on a single platform to drive unparalleled confidence in price recommendations, which accelerates adoption and ROI.

The Revionics Life Cycle Price Optimization Suite leverages usable science that integrates and balances retailers' pricing rules, strategies, and operational policies with consumer demand to deliver more effective pricing recommendations that align with category plans and corporate financial objectives.

Price transparency provides visibility into the "why and how" behind every recommendation, clearly exposing the contribution of each strategy objective and constraints. With Revionics, retailers can always answer the question "Why did the price change?". The Revionics Life Cycle Price Optimization suite includes Revionics Price Optimization, Revionics Promotion Optimization, and Revionics Markdown Optimization.