Lectra signs deal with Cegep Marie-Victorin fashion school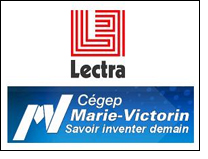 Lectra, the world leader in integrated technology solutions dedicated to industries using soft materials -- textiles, leather, industrial fabrics, and composite materials -- is pleased to announce that the first Education Privilege Partnership in Canada has been signed with Cégep Marie-Victorin, one of the premier fashion schools in Canada.

For the last 10 years, Lectra has collaborated with Cégep Marie-Victorin, helping them to build a cutting edge program in response to the needs of the fashion design, merchandising and production industry of Canada. Originally, Cégep Marie-Victorin implemented Kaledo Style for fashion design, Modaris and Diamino, Lectra's advanced pattern and marker making solutions, as well as a Lectra digitizing table and an Alys Plotter.

This year the school has enlarged its technology portfolio adding the Kaledo Textile suite, which allows their students to design and create original concepts or adapt existing artwork into a print, knit or weave. As a result, Cégep Marie-Victorin has three complete labs outfitted with the latest technology from Lectra to prepare the next generation of fashion professionals.

"Lectra provides Cégep Marie-Victorin with the tools we need to educate our students on the latest technology, that have become industry standards," said Francine Nadeau, Director of Public Affairs of Fashion School Cégep Marie-Victorin. "With their innovative solutions in place, our program is highly respected in the educational community and competitive among students. Lectra takes a progressive vision working with our educational institution, and we are excited to join them in this partnership to ensure the future of our program."

With this new Privilege partnership, Cégep Marie-Victorin joins a select group of some of the best Fashion schools in the world. The Lectra Educational Program not only gives the schools access to high-end technology developed by Lectra, but also includes a personalized approach focused on the development of common value-added projects, such as conferences, internships, support for students and shared information and data related to best industrial practices.

"Lectra is proud to partner with Cégep Marie-Victorin which has proved to be very dynamic and one of the highest performing schools in the use of textile technology.

For the past 10 years, we have continued to strengthen our relationship with Cégep Marie-Victorin, and have developed common projects such as the Lectra customer event hosted by the school last year and the joint workshop during the ITAA conference," said Roy Shurling, President of Lectra North America.

"We are very committed to the fashion education community and are happy to support Cégep Marie-Victorin in educating students on the latest technology and, in turn, strengthening the industry."