RFID project for Fashion brand DAZZLE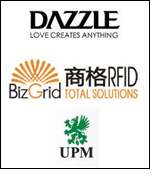 UPM RFID and Shanghai BizGrid Information Technology are supporting international fashion brand DAZZLE in the implementation of an item-level RFID project in their China retail chain. DAZZLE's d'zzit fall and winter 2011/2012 collection will carry hang tags with UPM ShortDipole and UPM Belt RFID inlays to improve supply chain and sales channel management.

The DAZZLE fashion group has three targets for the RFID project. First, the company seeks to improve logistical efficiency as well as shipping and receiving operations. With RFID, every box is read and verified at receipt, improving the accuracy and efficiency of storage.

Secondly, DAZZLE aims to improve store inventory accuracy. Garments with RFID hang tags are read on arrival at retail shops, enabling smart storage allocation and improved on-shelf availability. Using handheld RFID readers, retail shop personnel can easily check inventory levels and replenish sold-out items.

The third target is to enable item-level tracking from storage to the point-of-sale, as well as verify garment authenticity. With a combined RFID reader and antenna at the checkout, multiple garments can be scanned simultaneously for fast customer service. As RFID hang tags have EAS functionality, they are also used for anti-theft purposes.

At the next implementation phase, DAZZLE will develop smart displays that show customers' purchases, provide product information and offer matching accessories in interaction with the customer. At its warehouses, the company will use trolleys with RFID readers to confirm that the right apparel has been selected.

"With RFID technology we aim to enhance both our internal operations as well as the customer experience. Hang tags with UPM RFID inlays play an essential role in the process, providing quality and reliability. We have run the project for six months now, and can already see the benefits of the technology. DAZZLE will extend the scope of the RFID implementation in the near future," says Shi Jie, IT Manager, DAZZLE.

"We are happy to support customers in implementing RFID and achieving positive ROI with the focus on RFID system integration for apparel. In this great case and perfect RFID process, we help DAZZLE with RFID tag encoding as well as the commercial grid integration of RFID self-designed equipment installation and commissioning."

"Also, we ensure the seamless integration of RFID systems providers and grid users in ERP systems, providing the customer with a one-stop-service. In the next phase, we will work together with DAZZLE and partners in order to complete additional RFID retail store applications which enhance the customer shopping experience and help improve store sales," says Fred Zhang, Vice President, Shanghai Business Grid Information Technology Co.

"UPM RFID has long experience in the apparel RFID business, and we're glad to be providing our inlays to DAZZLE. Item-level RFID opens many opportunities for fashion brands in regards to logistics, cross-sales and customer service, just to mention a few," says Edward Lu, Sales & Marketing Director, APAC, UPM RFID.