Discussion on digital & mobile retailing at BIG Show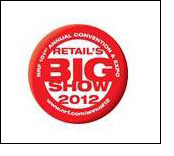 Bringing together innovative retailers from around the globe, the National Retail Federation's 101st Annual Convention and EXPO is set to commence this week offering the best educational programs available to the retail industry.

The four-day event, being held January 15-18, 2012 at the Jacob Javits Convention Center in New York City, will feature topics ranging from digital and mobile retailing to the evolution of the retail store to economic trends and trends in consumer spending. NRF's 2012 BIG Show is expected be the biggest and best yet – drawing more than 22,000 retail professionals and hosting more than 420 exhibiting companies, with 85 different countries expected to be represented.

This year's Convention will place a special emphasis on retail's significant role in driving the economy, offering ways for attendees to get engaged in NRF's Retail Means Jobs campaign to advance innovation and growth in the retail industry.

Also new this year, Shop.org, NRF's digital division, will host its First Look Track during the Convention. Educational content will include a look back and ahead at E-commerce trends, social media and social commerce and, embracing the "tablet shopper."

Scheduled Super Sessions at Retail's BIG Show include:

Digital Retailing: New Growth Drivers for Success
Sunday, January 15, 3:00 – 4:00 p.m.
Moderator: Jeffrey Rayport, Operating Partner, Castanea Partners
Speakers: Jennifer Hyman, CEO and Co-Founder, Rent the Runway; Doug Mack, CEO, One King's Lane
This session will look at new digital growth strategies and innovation for the global retail industry. Attendees will discover how digital retailing pillars like mobile, local and social can support top-line growth through superior customer engagement.

NRF Update and Retail's Big Picture
Monday, January 16, 8:00 a.m. – 8:20 a.m.
Speaker: Matthew R. Shay, President and CEO, National Retail Federation
Kicking off the show Monday, NRF's President and CEO Matthew Shay will discuss NRF's accomplishments in 2011 to strengthen the retail industry, top retail trends for 2012, and the importance of retailers supporting a Jobs and Innovation agenda. Shay will also announce NRF's 2012 retail sales forecast.

The Next Evolution: Store 3.0
Monday, January 16, 8:30 – 9:15 a.m.
Speakers: Bonnie Brooks, President and CEO, The Bay (Hudson's Bay Company); David Jaffe, CEO, Ascena Retail Group (Dress Barn); Alison Paul, Vice Chairman and U.S. Retail and Distribution Leader, Deloitte LLP - This session will provide a forward-looking view into what the in-store retail consumer experience may be like in a few short years, and how stores and brands will need to evolve in order to attract, engage and serve tomorrow's customers.