New fashion fit tool for pattern making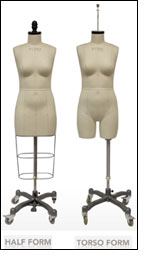 Alvanon Inc., the global fashion industry's leading 'fit' expert has launched AlvaForm Studio, a new and unique in-stock technical fit mannequin that, for the first time, will give small companies, designers, fashion students and garment making enthusiasts direct access to a world class garment sizing and fit tool.

The new AlvaForm Studio range is based on Alvanon's latest "ASTM US Missy Standard" generated from 3D body scans of real US consumers so, unlike anything else available in the market, they will feature realistic human body shape, posture and balance. The Studio range will be positioned as the entry level technical fit tool complementing the company's acclaimed premium AlvaForm range.

The AlvaForm Studio will be available in two styles; a dress form at $1000 USD and a torso form at $1200. With large stocks held across the size range in its US warehouse, AlvaForm Studio will initially be available in North America and Canada with plans to launch the European shape equivalent later in the year.

An independent pre-launch review of the Studio was undertaken by the industry's leading advisor on fashion design technology, Kathleen Fasanella, who published an in-depth user evaluation of the form in her half-million visitor per month blog, Fashion-Incubator.

Each AlvaForm Studio will be manufactured to the same exceptional quality standards as Alvanon's premium AlvaForm range. Crafted in 3D by experienced modellers to represent the dominant US shape across the size ranges, every detail of the body is considered to ensure the fit form works well for pattern making, draping and fitting.

The Studio forms will be made in Alvanon's self-healing, skin soft memory foam, wrapped in stretch cotton weave that is easy to pin. These realistic forms will also feature measurement lines for the chest, under-bust, high hip and low hip to help consistently identify critical points of measurement for garment fit accuracy.

These lines extend around the body to help users identify the location of key landmarks as they create and develop patterns and styles on the mannequins.

AlvaForm Studio comes complete with premium metal stands that are engineered to be perfectly balanced, ensuring that every garment will drape naturally to give the user an accurate analysis of fit. The counter balance spring design in the stand eases the raising and lowering of the AlvaForm while moving the stand is made easy with large wheels and foot locks.

Through its three integrated divisions, AlvaInsight, AlvaForm and AlvaBlock, Alvanon offers practical solutions that enable its clients to develop, execute and assess "fit" consistently and continuously from design through to consumer.

AlvaInsight is Alvanon's front end strategic consulting division comprising fashion and retail industry experts who draw upon apparel business insight, technical design expertise, rigorous statistical analysis and practical experience to help clients define their target markets' specific fit criteria.