AIMS360 introduces dashboard feature for real-time info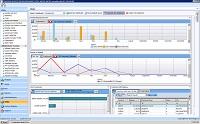 AIMS360 introduces dashboard feature for those looking for specific data or only want top-line information about their apparel business.
Stay up-to-date with real time information that is important in running a business or department day-to-day. Dashboards are great time saving tool for departments such as customer service, production, or accounting.
Easily select what information one would like to see each time one logs into AIMS360, and graphs and charts will be automatically created depicting the latest data.
Use the AIMS360 dashboard to quickly view: booked vs. shipped, pending WIP (work In progress), top selling styles, view top customers based on order volume, search customers with balances, and the list goes on and on.
AIMS 360