Seven tech teams woo investors at Brandix funded MIT-GSL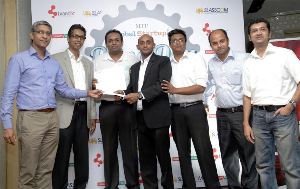 The application of technology innovatively to improve access to information, products or services was the common theme when seven teams of young Sri Lankans demonstrated their ideas for business start-ups at the conclusion of the Brandix-funded MIT Global Start-up Labs (MIT-GSL) Sri Lanka 2014 challenge.

From the delivery of therapy to dyslexic children, accessing organic vegetables and fruit, or eliminating false alarms generated by electronic surveillance systems, to helping university students find lodging facilities, commuters to locate the taxis closest to their locations, and retailers to know, engage and retain customers, the ideas were presented to potential investors at the programme's 'Demo Day.'

A collaboration between Brandix, the Sri Lanka Association of Software and Service Companies (SLASSCOM) and Massachusetts Institute of Technology, the 2014 MIT-GSL Sri Lanka programme commenced on 9th January 2014 and ended on Wednesday 30th July. The programme is to be offered twice a year to second-year or older undergraduates as well as recent graduates of Sri Lankan universities.

The top seven teams that presented their start-up ideas after seven months of brainstorming, training and mentorship provided by the programme, were chosen from the 75 original participants selected from an initial pool of 380 applicants from several higher education institutions including the Universities of Moratuwa, Colombo and Sabaragamuwa, the Open University of Sri Lanka, the Informatics Institute of Technology (IIT), the Sri Lanka Institute of Information Technology (SLIIT), and Alliance Française de Kotte.

Speaking on behalf of Brandix at the 'Demo Day,' Group Director UdenaWickremesooriya said his company is involved with the MIT-GSL programme to drive disruptive innovation in the apparel industry.

"I come from an industry labelled by many as very 'basic,' with adjectives such as 'Juki' and 'Garment,' he said. "This is partly true, if you consider something like a man's shirt, which hasn't changed much from the time of my grandfather and father. Compare that with anything else you use, from mobiles to cars to shoes which have all gone through a mega transformation. What this shows is the opportunity that exists in the industry to do something completely different and disruptive."

In his speech, MaduRatnayake, Chairman Emeritus of SLASSCOM said the progress made by the MIT-GSL Sri Lanka programme could be an indicator that the target of having 1,000 start-ups by 2022 could be overhauled. "If you look at the top 20 companies in the world today, 60 per cent would be technology companies, and half of them did not exist 20 years ago," he said. He stressed that more than ideas, money and the team, the most important aspect of the MIT-GSL programme is the mentorship provided to the participants.