New silicone technology from Dow helps athletes feel good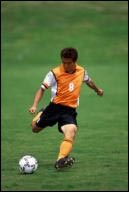 New textile silicone technologies from Dow Corning Corp are keeping athletes looking and feeling good. For athletes in football, soccer, and other high-impact sports, equipment is everything.

For maximum performance, professional equipment buyers know that products incorporating silicone technology offer the highest level of quality, aesthetics and safety.

"Modern athletes demand equipment, like athletic apparel, that combines protection with the latest looks," explained Charlie Zimmer, Dow Corning senior product marketing specialist.

"New developments in silicone technology allow athletic apparel manufacturers to deliver maximum performance, offering advanced protection while enhancing the aesthetic appeal and comfort of their products."

For years, retailers and consumers have asked for brightly colored, printed spandex garments, especially for T-shirts and gym shorts.

Athletic sponsors like to put their logos on team uniforms, but traditional inks lack color fastness and durability on garments made from elastic fabrics.

Dow Corning has developed a breakthrough technology for screen printing inks that allows manufacturers to print on a wide range of high-performance garments.

These new silicone-based inks offer improved durability, a non- tacky finish, and high elongation on elastic fabrics in addition to better durability and color fastness.

Until recently, protection for athletes meant heavy padding, which can reduce speed and agility. The Dow Corning Active Protection System, a "smart" impact protection textile, provides protection without impeding freedom of movement and flexibility.