Flagsuit delivers first commercial space suit gloves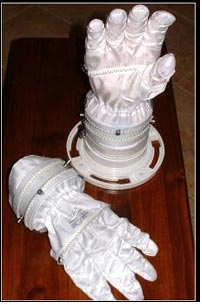 Flagsuit shipped their first commercially produced space suit gloves to Los Angeles based Orbital Outfitters last month under a joint development agreement.

The gloves are designed to be used with the Industrial Suborbital Space Suit-Crew (IS3C) which was unveiled by Orbital Outfitters in October 2007.

The gloves will be used for integrated suit testing and evaluation, and feature a patent-pending joint design that makes the fingers more flexible under pressure, increasing dexterity while reducing hand fatigue.

The gloves are manufactured using a new process that eliminates time consuming adjustments to adapt the fit to the wearer's hands, producing a ready-to-wear garment that literally "fits like a glove."

Flagsuit is currently implementing a preliminary production capability with support from the Maine Technology Institute. Orbital Outfitters announced the collaboration with Homer last November.

"Orbital Outfitters is committed to making the best performing and best looking commercial space suits available, without the premium price tag," says CEO Jeff Feige.

"Flagsuit is helping us realize that goal." Orbital Outfitters has a contract to deliver emergency pressure suits for a piloted suborbital vehicle being developed by XCOR Aerospace of Mojave, CA, among others and will be conducting tests on the suit in a near vacuum this summer.

The commercial space suit gloves delivered last month are direct descendants of the design that won the 2007 NASA Challenge.