New look Retail Solutions relaunched, re-energised at ExCeL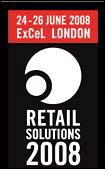 New look Retail Solutions 2008 Relaunched, re-energised and re-invigorated at ExCeL London, 24-26 June 2008.

Top retail technology providers including BT, IBM, K3, Manhattan Associates, Oracle, NCR, Red Prairie, Intel and Wincor Nixdorf have signed up to the re-launched Retail Solutions at London's ExCeL centre. Retail Solutions, organised by Emap Retail is the UK's largest event showcasing a wide range of solutions and cutting-edge technology for the retail industry and is being re-launched, re-packaged and re-located.

Retail Solutions is moving to London, after more than 15 years at the NEC Birmingham, in order to provide retailers with greater access to the fast growing retail technology market.

For the first time ever, Retail Solutions is bringing together multiple Retail Week conferences including Supply chain, Retail Technology Forum, Multi-Channel Retail, Business Intelligence, Merchandising and Loss Prevention.

Retail Week Conferences at Retail Solutions will provide delegates with insightful and innovative conference agenda with high quality content delivered by prominent UK and international retailers, who will offer insights and discussion on key strategic issues facing retailers. Also planned are a series of practical workshops around Epos, PCI –DSS and RFID.

Following on from the success of 'Store of the Future' at last years Retail Solutions, which attracted attention from the world's media, this year Retail Solutions will host a Green feature, sponsored by BT Expedite, the retail solutions division of BT. Retailers are looking for ways to respond to their customers' interest in greener products and stores and this feature will demonstrate how technology can help.