Solar textiles may be draped like curtains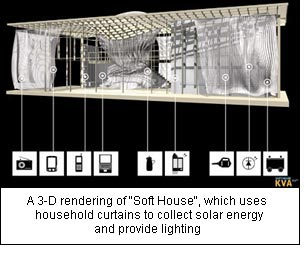 Sheila Kennedy, an expert in the integration of solar cell technology in architecture who is now at MIT, creates designs for flexible photovoltaic materials that may change the way buildings receive and distribute energy.

These new materials, known as solar textiles, work like the now-familiar photovoltaic cells in solar panels. Made of semiconductor materials, they absorb sunlight and convert it into electricity.

Kennedy uses 3-D modeling software to design with solar textiles, generating membrane-like surfaces that can become energy-efficient cladding for roofs or walls. Solar textiles may also be draped like curtains.

"Surfaces that define space can also be producers of energy," says Kennedy, a visiting lecturer in architecture. "The boundaries between traditional walls and utilities are shifting."

Principal architect in the Boston firm, Kennedy & Violich Architecture, Ltd. and design director of its materials research group, KVA Matx, Kennedy came to MIT this year. She was inspired, she says, by President Susan Hockfield's plan to make MIT the "energy university" & by MIT's interdisciplinary energy curriculum that integrates research and practice.

This spring, Kennedy taught a new MIT architecture course, Soft Space: Sustainable Strategies for Textile Construction. She challenged the students to design architectural proposals for a new fast train station and public market in Porto, Portugal.

For Mary Hale, graduatestudent in architecture, Kennedy's Soft Space course was an inspiration to pursue photovoltaic technology in her master's thesis.