Virtual 3D prototyping solution for apparel industry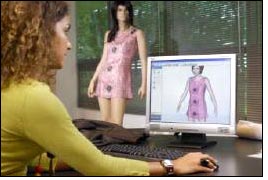 Lectra, the world leader in integrated technology solutions dedicated to the fashion industry, is pleased to announce that the new version of Modaris 3D Fit, the highest performance virtual 3D prototyping solution on the market, is now available.

Modaris 3D Fit enables pattern-makers, designers, developers, and sales and marketing teams to simulate and visualize their models in 3D on a virtual mannequin, including the colors, motifs, and fabrics (taking into account their mechanical behavior) originally created in 2D.

With Modaris 3D Fit, the look and fit of a garment can be verified, and its style and that of entire collections can be validated.

3D virtual prototyping: accelerating product development cycles and reducing costs As in the automotive and aeronautical industries and other sectors where virtual 3D prototyping has already proved its worth and become a key element of product development, this technology is now offering numerous advantages for professionals in the fashion industry as well.

Virtual 3D prototyping ensures the quality of a garment and its look and fit in all graded sizes, reduces the number of physical prototypes necessary to finalize a model, and makes communication more fluid among the actors in product development.

It thus accelerates the collection development cycle and enables users to overcome the "Fast Fashion"-specific challenges of an ever-increasing number of collections and product variants.

Finally, 3D virtual prototyping helps reduce development costs and, as such, is a real competitive advantage for apparel professionals. Modaris 3D Fit stands out as the most advanced solution for the universe of fashion.

"Compared to the traditional method, Modaris 3D Fit lets us finalize models more quickly, with improved accuracy in the proportions and fit.

Modaris 3D Fit lets us meet specific customer needs more efficiently. We can guarantee optimal quality and respect their morphological characteristics by using parametric mannequins which we adapt according to their needs.