Noon Solar uses ancient Japanese dyeing method to make bags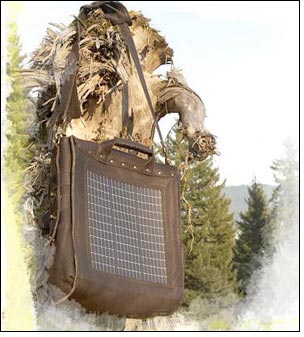 Noon Solar, a eco-design and technology company, launches its second line of handbags, messenger bags, and totes for men and women.

Noon Solar bags are made from biodegradable materials so that the bags can skip the landfill and go directly into your backyard without hurting the earth.

The bags are safe and non-toxic, and most of the materials will actually nourish the earth if buried. The other materials such as the solar panel and hardware can be removed and recycled or reused.

The founders personally hand dye, with natural substances such as pomegranate and weld, the organic hemp and cotton fabrics that comprise their bags. Noon Solar is one of a very small number of design companies using natural dyes on a production scale in the US.

To create textures and patterns on their bags, Noon uses the ancient Japanese dying method, Shibori, making each bag unique.

Noon bags use German leather that is tanned in similar ways to people tanning leather from hundreds of years ago. The leather is heavy metal free, and tanned and dyed with sustainably harvested materials such as rhubarb and walnuts.

All Noon Solar bags are made with incredible attention to detail. Women's bags come with a signature locket partly filled with compost to remind the wearer that the materials in the bag came from and can return to the earth.

Noon Solar bags incorporate flexible solar panels to keep cell phones and iPods charged. Each bag is designed to be able to sit in a window at work or in the car to collect charges.