Creative Design Studios rolls-out RLM's FashionManager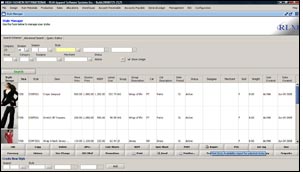 RLM Apparel Software Systems Inc announces that Creative Design Studios (CDS) is rolling-out the FashionManager all-in-one business software solution across design, merchandising, development, sourcing, and production teams at its new Manhattan headquarters.

The apparel firm is currently implementing RLM's FM On-Demand system, which is hosted on a remote application server and delivered to CDS teams through a secure internet connection. The company expects to grow its user count to more than 60 employees and numerous global trading partners by the end of next year.

"To build a world-class operation in today's fast-paced fashion industry, we knew we would need a comprehensive system", stated Lee Goldenberg, CDS SVP of Operations and CIO. "RLM's deep functionality, continued long-term success, and innovative on-demand platform made them our obvious choice. The fact that we have implemented a complete order-to-cash system across three separate divisions in less than 90 days validates this decision."

New York-based Creative Design Studios (CDS) was formed by NRDC Equity Partners in October 2007 with a mission to develop and manufacture designer-driven brands for Lord and Taylor and other regional department stores and to invest in great American design talent. CDS is the parent company of Peter Som, and brands designed by Charles Nolan, Jeff Mahshie and Joseph Abboud. CDS is part of The Hudson's Bay Trading Company (HBTC), which also comprises Hudson's Bay Company, Lord & Taylor, and Fortunoff's.

Mr. Goldenberg, a 30-year fashion industry veteran, noted that "the predominant factor in selecting RLM was the hosted solution option. This allowed us to get started very simply and easily, with no major financial risk or hardware investment. We have accomplished in 90 days what would take 9 months with most ERP or enterprise systems. We are already creating styles, cost sheets, product catalogs, receiving EDI orders, and issuing production purchase orders in our system. Our people are already benefiting from the system and loving it."

"Having implemented earlier RLM client-server solutions at other companies, I was pleased to learn that they left nothing out when creating the software-as-a-service version. Not only does it have all of the super-mature functionality that they are known for, it has a more consistent and user-friendly interface that makes our teams more productive. Once you learn how to do one thing, you basically know how to navigate and control the whole system. It is so logical and intuitive that our talented staff learned to enter production orders in just 15 minutes."

CDS is now working to implement the system's PLM (product lifecycle management) tools with its men's design team. This will help the company gain greater visibility and control over the concept, colors, materials, and sampling processes. It will also set up a vendor portal that will enable it to collaborate on vendor RFQ's and bids for its production programs. Looking forward, the company plans to roll-out the solution to its foreign buying offices as well as other divisions and business.