'Fresh' - launch platform for New Consumer Technologies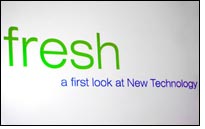 Everything Channel, the leader in accelerating technology sales channels worldwide, announced the RetailVision and Industry Award series winners from RetailVision Fall.

The event, which took place in San Diego, has been the recognized leader in bringing together established and emerging vendors with top retailers for nearly 20 years.

"The retail channel is the pulse of the North American marketplace," said Nancy Hammervik, Vice President, Everything Channel Events.

"RetailVision has been the leading event for retailers and vendors in the consumer market and the success of this event demonstrates its importance in the marketplace."

As part of Everything Channel's mission to help grow and enrich technology reseller Channels worldwide, RetailVision Fall brought together retailers, suppliers, and other retail professionals and vendors in a setting that provided one-on-one meetings, private boardroom appointments, vendors showcases, industry insight sessions and a series of business networking events.

In addition, RetailVision in conjunction with The Sightline Group presented "Fresh", a platform for new technologies trying to reach the consumer market and a trigger point for successful product launches. Seven emerging vendors demonstrated key features in a lively multimedia production.

More than 180 retail executives attending the event voted for the Best of RetailVision Awards, representing 100 retail chains in the United States, Canada and Latin America that buy over $60 billion worth of products each year.

After two days of boardroom presentations and one-on-one meetings, the retailers vote on the products and services presented at the show.

The Best of RetailVision Awards are a proven springboard to increased brand awareness and product credibility in the consumer channel.

The winners include:
• Best Product: Hardware - Vuzix
• Best Product: Peripheral - The Neat Company
• Best Product: Accessory - IOGEAR
• Best Product: Digital Home - Sling Media
• Best Merchandising - CPG/Woot!
• Best Retail Strategy - CPG/Woot!
• Best Presentation - CPG/Woot!
• Best New Technology - KOTRA
• Best Vendor - IOGEAR
• Best Service Provider - AppArt
• Best FRESH Vendor - DM Technology
• Best Latin American Retail Strategy - Western Digital
• Best Latin American Vendor - Western Digital

The RetailVision Star Club Awards honor retailers for their long-standing support of ten or more RetailVision events and their dedication to the event.

The RetailVision Star Club awards were presented to:
• Michael Carioti, Provantage
• Jamie Hough, Nebraska Furniture Mart
• Matt Martin, PC Connection

The Fast Growth retailers showcase the industry's fastest growing retailers. Fast Growth winners were selected on total percentage revenue increases between 2005 and 2007, which were verified by editorial staff.