Maria develops S/S collection with solutions from Lectra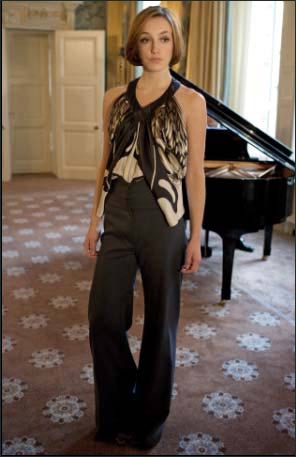 Lectra, the world leader in integrated technology solutions dedicated to the fashion industry, is pleased to announce that renowned London-based fashion designer Maria Grachvogel has developed her innovative Spring/Summer 2009 fashion collection using expert fashion-dedicated design, pattern-making, and marker-making solutions by Lectra.

Lectra's fashion solutions: the foundation for enhanced creativity and consistent quality:
The new Maria Grachvogel Spring/Summer collection, recently presented in Claridge's hotel in London's fashionable Mayfair district, combines bold audacity with refined elegance and exquisite class.

The unending creativity of Maria's styles and prints, as well as her celebrated fit that perfectly shapes the female form, have become recognized worldwide as the brand's defining qualities.

This year's collection is once again the result of a magical combination of Maria's exceptional forces: artistic genius, a feeling for fashion, an understanding of the clientele, and, of course, the high technology fashion solutions provided by Lectra.

Each high quality dress, blouse, and pair of trousers presented during the show has been uniquely designed, developed, and produced using Lectra's Kaledo, Modaris, and Diamino expert fashion-dedicated solutions. "I believe that great design combines art and functionality, so creativity, cut and fit are all equally important in my work" says Maria.

"With Lectra's solutions I know I can depend on the quality and consistency of the result. My time is freed up for reaching those exceptional levels of creativity that can only come when everything else is in place. I can count on Lectra not only to support my creativity but to inspire it."

Kaledo is Lectra's state-of-the-art professional design software platform developed especially by Lectra's research and development teams for fashion designers. It delivers a visual, virtual environment for creating and managing fashion collections and offers a multitude of design options and possibilities for an infinite range of creative opportunities.

Kaledo is even flexible enough to handle the limitless creative concepts of designers like Maria Grachvogel. Processes are streamlined and tedious tasks eliminated, resulting in maximum efficiency.

Modaris, Lectra's benchmark pattern-making solution especially designed for the fashion market, makes pattern creation easy, consistent, and fast. Pattern-makers can capitalize on their knowledge while ensuring the quality and fit of their products in all sizes.

Modaris's features are so reliable that Maria Grachvogel insists on keeping her pattern-making in-house, using Modaris, in order to guarantee that all her models maintain her world-famous fit and hang. Powerful yet userfriendly, Modaris reduces the product development cycle while improving communication among the various actors at each step of the process, yielding high-quality results.