Children's Place discusses advantages of shifting from U4ia to Kaledo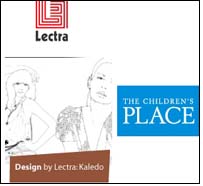 Lectra is pleased to announce that one of the leading American children's fashion retailers, The Children's Place Retail Stores, recently presented their experience migrating from Lectra's U4ia to Kaledo, Lectra's next generation textile and fashion design solution, at Lectra's design seminar in New York.

The Children's Place completed their successful migration to Kaledo from Lectra's previous design technology solution in July 2008.

"We knew that Kaledo was the 'latest and greatest' in design technology, but the trick for us was to incorporate the new tool into our design team of 60 users while still getting our collections out on time," said Phil Wozny, Senior Director of Merchandising Systems at The Children's Place, which designs, develops, manufactures, and retails its own value-priced fashion for children through a chain of 920 stores throughout the U.S. and Canada.

"Together with Lectra's team, we were able to implement a rapid migration strategy to effectively cope with the double challenge of learning a new tool and overcoming issues related to change management. We decided that we would require all users to move to Kaledo without the option of returning to U4ia. And it worked very well, with only seven days of training for each user and not a single delivery delay. We've been very pleased."

In their presentation, "Going Cold Turkey," Wozny and Leslie Farber, Senior Director of Art at The Children's Place, explained how they were able to achieve maximum user compliance and productivity through this switchover strategy—despite initial protests from their teams. "Old habits die hard," Farber said, "and some of our designers have been working the same way for eight years or more.

But at the end of the migration, the results were extremely positive, and even the most critical users admitted that they love working with Kaledo. They frequently come show me new things they've learned to do with the program."

Separated into training groups of ten people representing a mix of skill sets and job functions, The Children's Place teams learned to use Kaledo Print, Knit, Weave, and Collection during their Kaledo training courses, which were held onsite or at Lectra's New York training center, with two trainers in each classroom. The entire group was trained in just five weeks.

They then worked entirely on Kaledo for the new collection. "When they got back after training, they found that U4ia wasn't on their desktops anymore," Wozny said, "because after the training session, it was no longer necessary." Wozny and Farber said they set up a feedback program to ease the migration and optimize productivity. They named "super-users" from each design team who met once a month to share shortcuts and tips and to help each other resolve various issues. Feedback from those meetings was shared with management at The Children's Place and with Lectra teams to maximize communication and efficiency.