Lectra to present latest integrated range at India Intl Leather Fair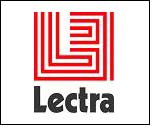 Lectra, the world leader in integrated technology solutions dedicated to industries using soft materials—textiles, leather, industrial fabrics, and composite materials, will present its complete, integrated range dedicated to footwear, luggage and leather goods markets at the India International Leather Fair 2009 in Chennai from January, 31st to February, 3rd 2009.

The latest versions of Romans CAD Software – state-of-the-art 3D solution which allows for real-time modification, validation and collaboration, will be on display. Learn more about the new generation of automated cutters, combining power with intelligence.

"In today's world, most manufacturers and retailers have the biggest challenge of introducing new styles within the shortest time to market and ensure costs are optimized to help sell better," explains L J Prashanth, Managing Director, Lectra India "Lectra's leather and footwear solutions provide most trusted way of making an organization ready to support customers demand for style and price into their design, planning, manufacturing and sales processes.

With the wealth of experience gained in providing Lectra solutions to leading international companies, our mission is to provide global solutions tailored to business needs of footwear and leather industries in India."

The only PDM software genuinely dedicated to footwear currently on the market:
Romans CAD Software Data Management is the only PDM software dedicated to footwear currently available on the market. It significantly accelerates the collection creation process through real-time sharing between decision-makers, designers, suppliers and customers of all data generated during the design phase of new products. This information may be in the form of technical documents but may also be highly realistic 3D simulations.

The integration of Romans CAD Software Data Management with other applications throughout the product design chain can more than halve the time needed to design a new collection and drastically cut costs by reducing production time and the number of prototypes needed. Those involved in the process receive and share unique, customized information in real time, regardless of whether they are working on site or remotely.

Philippe Albert – Business Developer Footwear & Leather, Lectra explains, "With traditional processes, a company with multiple sites needs 4 to 6 months of time to develop a model from the first sketch to design approval. With the tools Lectra is offering, the time needed to develop and approve a virtual product and produce the only physical prototype necessary for final validation is significantly reduced to 4 to 6 weeks."

Dedicated 2D/3D software giving even better performance:
Integrating the know-how of designers with the power and ease-of-use of the Romans CAD Software has made designing on a 3D digital last more creative and given better simulation of models and a significantly reduced development process. Romans CAD Software 3D design combines traditional know how from the trade with the latest technological innovations to increase the number of virtual models on the one hand and reduce the number of samples and associated costs on the other.