New York Fashion Institute of Technology adopts Meru 802.11n WLAN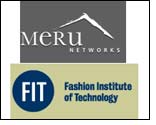 Student residences at the Manhattan-based Fashion Institute of Technology (FIT) have gained high-performance wireless Internet access with a new IEEE 802.11n draft 2.0v wireless LAN from Meru Networks.

The new Meru 802.11n WLAN, based on Meru's virtualized wireless architecture, expands and upgrades the existing Meru wireless network first installed in 2004 in academic buildings on FIT's West 27th Street campus in Chelsea. By the end of 2009, FIT, part of the State University of New York (SUNY) expects to complete an upgrade of its entire wireless network to 11n, bringing campus-wide high-performance access to the school's 10,000 students at five times the access speed of earlier 802.11a/b/g standards.

Gregg Chottiner, FIT's vice president of information technology and chief information officer, said the school's strategic goal is to make the whole campus wireless.

"We're looking to wireless as the network infrastructure of the future," Chottiner said. "As parts of our wired infrastructure reach end-of-life, rather than replacing them we will use wireless as our primary vehicle for data access, and even voice and video. This will save on capital costs, since we won't have to keep expanding our switching closets and installing all the associated cabling."

Student needs drove the move to wireless in FIT dormitories, Chottiner said. "Students were having to plug their laptops into network jacks that would break or become hidden as furniture was moved around. They wanted the flexibility to work in the hallways or in collaboration areas or in each others' rooms. The Meru wireless LAN lets them do all these things."

Cementing the decision to upgrade to products based on the high-performance 802.11n standard, Chottiner said, was the fact that, as an art and design school, FIT often requires its students to work with large, complex file formats – e.g., AutoCAD and Adobe CS4 – that include large numbers of high-resolution images. "The kids access these resources in their classrooms and labs, and then bring the work back to the dorms on their laptops," he said. "802.11n provides all the bandwidth they need for these applications."

FIT first installed a Meru 802.11a/b/g wireless LAN in 2004. "Initially the APs were deployed sporadically, on an as-needed basis," Chottiner said. "Today we're not only bringing wireless to new sites, we're also filling in a lot of gaps. Meru's virtual cell approach makes it easy to do this because you can just put new APs up where you need them, without having to worry about planning around channel interference. And the Meru technology is so self-sufficient that it automatically manages the integration of new APs into the network."

He added that Meru successfully addresses FIT's need for high signal strength in some of its older, thick-walled buildings; and, even in Manhattan's dense urban environment, users do not encounter connection or interference problems. The Meru WLAN also is fully compatible with the Bradford Networks NAC (network access control) product the school uses for secure user authentication on its network.