ORSAY to replace its home-grown IT system with SAP solution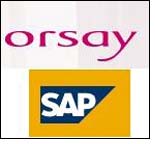 SAP AG announced that ORSAY Gmbh, a midsize women's fashion retailer, has selected the SAP Business All-In-One for Retail solution to streamline and integrate its entire supply chain and centralize business operations. ORSAY operates approximately 550 stores across Europe and has selected the SAP solution to help fuel its expansion into Asia over the next few years. Based in Willstätt, Germany, ORSAY will replace its home-grown IT system with the SAP Business All-in-One solution to gain valuable insight into the needs of its fashion-conscious customers.

ORSAY prides itself on providing its customers with the very latest fashion trends. The rapidly changing fashion industry, the demanding store front requirements and customers' expectations for high-quality stylish merchandise pose considerable challenges to companies in the fashion industry. A flexible IT solution is vital to the success of fashion retailers, and the industry-specific business processes for the retail industry from SAP will support the company's entire value chain, while providing an open infrastructure for future growth and expansion into new markets.

"Our existing, home-grown IT solution is not flexible enough to help us keep pace with our customers' needs and our plans to grow and expand the business," said Jean-Marc Willer, CEO, ORSAY. "The fashion retail industry has always been competitive, and it is, more than ever before, essential to be able to swiftly make decisions based on consolidated data. Once the SAP Business All-in-One solution is implemented quickly, ORSAY will soon have a solution that provides transparency across our entire organization, enabling us to operate more efficiently in today's challenging economic climate."

The SAP Business All-In-One for Retail solution supports modular deployment and scalability so midsize companies can easily add and adapt the solution to meet their growing needs. The solution includes industry-specific functionalities such as merchandise and assortment planning, procurement, logistics, supply chain management and point-of-sale processes, including the SAP Enterprise Point-of-Sale (SAP Enterprise POS) application. By selecting an integrated retail solution from SAP, ORSAY is helping to ensure that the company's entire supply chain will be more effectively aligned to serve the needs of its fashion-conscious consumer.

Flexible Planning to Ensure the Right Merchandise Mix
Integrated business planning for retail and wholesale distribution will provide ORSAY with highly flexible planning functions to help ensure effective and timely merchandise and assortment management. In addition to the latest trends and demand forecasts, the planning package also will incorporate unique data about each one of ORSAY's stores, allowing customers to consistently find the merchandise they want in their local store. The high degree of planning flexibility also makes it possible to react quickly to changes in customers' purchasing behavior and plan the merchandise shipment in advance to the stores, minimizing stock transfers.